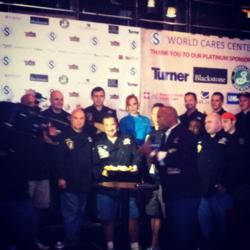 Miami, FL (PRWEB) October 31, 2012
On Monday, October 22, 2012 in the heart of New York City, amidst the sophisticated, ruby red décor of Crimson, firefighters- many of them served in the tragic 9/11 catastrophe- stepped out of their firehouses and into the spotlight to take home big honors for their incredible cooking talent in the 11th Annual Iron Skillet® Cook Off. You may be familiar with culinary competitions like Food Network's Chopped or televised throw-downs between professional chefs, but the Iron Skillet® Cook Off differentiates itself from the pack of culinary competitions by focusing on the camaraderie, spirited brotherhood, and jovial nature of the firehouse cooking clan and Chef Adrianne Calvo was the only lucky lady, handpicked and invited to play with all the boys.
The night was a tribute to the everyday hero and Chef Adrianne Calvo was the honored, invited guest, flown in from Miami just to prove that Miami is just another borough. As a celebrity participant, Chef Adrianne was honored to kick off the event for all the VIP's with her signature "Maximum Flavor" style appetizers to get the judges palettes warmed up and talking food before judging all the competitors. Chef Adrianne's reputation has hit a fevered pitch, reaching the ears of the World Cares Center, not just for her food, but for her relentless acts of kindness that have touch the lives of many through her foundation, Make it Count.
"I was so surprised to be invited to such a special event that helps so many people and honors firefighters for all their sacrifices. It was a humbling experience for me to know that people in New York have heard of me and invited me to participate and being surrounded by hot firemen wasn't too bad either."
At the competition, five firehouse chefs were matched up with five top restaurant chefs to see who could make the most crowd-pleasing dish of the night. The firehouse chefs supplied the original recipe and the professional chefs were charged with reinventing it, making it better (if they dared). The winners of the night were everywhere – in the chef coats, in the sponsor booths, and on stage. Everyone who came added to the lighthearted, but heartfelt spirit of the night. Amongst the guests were NBC, NFL NY Jets players, NFL NY Giants players, and a few NHL player. The smells and sights of the dishes – fried chicken with sweet potato waffles, skirt steak with burgundy cream sauce, and smothered pork chops – permeated the space with an intoxicating breeze that we swear could be smelled all the way down to Miami.
Don't miss this month's Dark Dining and sample some of the talent that is buzzing all the way to New York City.
Chef Adrianne's is located at 11510 SW 147 Avenue Miami, Fl 33196 for reservations please call (305)408-8386 or (305)408-8388 and follow Chef Adrianne Calvo on Twitter or Facebook.
Restaurant: http://www.chefadriannes.com/?page_id=13
Facebook: http://www.facebook.com/chefadrianne
Twitter: http://twitter.com/#!/ChefAdrianne