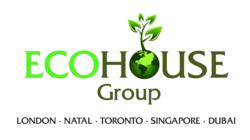 Toronto, ON (PRWEB) October 31, 2012
Wednesday October 10th 2012 was a very special night for the international property industry. More than three hundred representatives from companies operating around the globe gathered in London at one of Central London's premier event facilities, The Brewery. The gala evening was held under the auspices of OPP (Overseas Property Professionals) and was to celebrate and reward the best and brightest stars in the overseas property world over the past year. The OPP Awards for Excellence 2012 could be considered a sort of cross between the Oscars and the Olympics for the real estate industry!
We're very pleased and proud to announce that the panel of over 50 independent judges awarded the EcoHouse Group not just one or two but three major awards. These were: Best Affordable Development, Best Estate Agency - Middle East and Best Developer – South America.
EcoHouse CEO Anthony Armstrong-Emery expressed his delight at the achievements. He made a point of publicly thanking all his staff who he gratefully acknowledged has all contributed to this great outcome for the company.
EcoHouse Developments is an internationally operating organization which has its principal offices in Natal, Brazil. Our company is also established in London (UK), Toronto (Canada), in Singapore (SE Asia) and most recently Dubai (UAE).
We have an expanding workforce of over nine hundred full-time employees. We are currently the only company with foreign backing actually building legally in Brazil under the Minha Casa, Minha Vida (My House, My Life) social-housing program.
We own the land, we are fully registered with the Brazilian government, we have all building permits in place and our investors' money is fully backed by Brazil's largest bank CAIXA Economica Federal and Escrowed through Lloyds TSB (London).
Our primary service to North American Investors is providing a method of investing in the world's most exciting economy (Brazil) that eliminates all the typical barriers to entry, adds 100% capital security, combined with a very high rate of return and a government-backed exit strategy all within a short 12 month period. We have taken an international investment with possible complex tax consequences and have simplified it and made it very secure. Investor/Client funds are held in trust with an independent lawyer and funds are only distributed to EcoHouse (in arrears) to be used for the construction of the clients unit(s). Further, through our international structure clients have zero Brazilian tax implications.
For further information on the EcoHouse Group please contact:
Deen Bissessar - Chief Operations Officer (North America)
Email: deen (at) ecohousetoronto (dot) com
or
Jim Page - Business Development Director (North America)
jim.page (at) ecohousetoronto (dot) com
Website: http://www.ecohousedevelopments.com
Tel: +1 (905) 366-7297
Toll Free: 1-888-551-5445