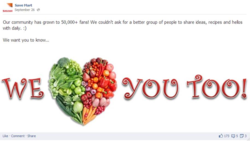 Sacramento, CA (PRWEB) October 31, 2012
In September 2012, Save Mart Supermarkets crossed a social media milestone–50,000 Facebook Fans. And they are not the only Glass Agency client that has reached this level of community support. In the same month, Togo's Sandwiches also superseded the 50K mark, and Amtrak California earlier this summer. In the last few months, full-service advertising agency, Glass Agency, along with sister company Rumble Interactive, have executed social media initiatives that have propelled their clients' brands forward through social media marketing.
Social media isn't a fad; it's a fundamental shift in the way people, and brands, communicate. The way people experience media has evolved at an extraordinary pace. To put this statement in perspective, it took 13 years for TV to reach 50 million viewers, while Facebook reached 200 million members in less than a year. Facebook officially now has over 1 billion active monthly users and reaches 93% of Internet users in the United States, with 166 million Americans using the site (comscore).
What does this mean for those brands? The short answer is that brands have an opportunity to connect with people like never before. A branding message is now viewed adjacent to a status update from a consumer's personal network, providing a sense of context. Brands that take advantage of that opportunity, and enhance it through strategic ad optimizations, will be the winners in the social space.
"Social media channels like Facebook and Twitter make it possible for marketers to efficiently build communities comprised of their advocates and actively engage this group by providing content that is relevant and valuable to the community," states Rumble Interactive's Brand Engagement Director, Erica Rau.
Today, Lucky Supermarkets, Save Mart's bay area stores, are scaling close to 40,000 fans, collectively bringing the Save Mart Supermarkets brand close to 100,000 supporters. With 100,000 people engaged, a huge section of Save Marts' customer base is now interacting with the brand online, participating in promotions and reaping the benefits of "liking" the Facebook Page. Respectively, Amtrak California steadily climbs past 68,481 fans and Togo's Sandwiches, 50,350.
Research continues to show that this social media-fostered relationship between brands and their target audience can be extremely valuable in helping marketers of all disciplines achieve a variety of objectives.
As brands such as Save Mart Supermarkets, Amtrak California and Togo's Sandwiches continue to grow social media impressions, Glass Agency continues to grow brand presence and reach.
Want to learn more about how our client's reached these milestones? Check out Togo's release and learn about the brand's unique marketing strategy.
Glass Agency is a creatively driven, fully integrated advertising agency located in Sacramento California. Sister company, Rumble Interactive, offers full service digital and social media services. Other Glass clients include the California Department of Boating and Waterways, the California Office of Traffic Safety and Hinode Rice. Learn more at http://www.glassagency.com.
Save Mart Supermarkets operates 225 stores throughout Northern California and Northern Nevada under the Save Mart, S-Mart Foods, Lucky, Maxx Value Foods, and FoodMaxx banners. The privately-held company was founded January 17, 1952 and has always been headquartered in Modesto, California. More information about the company and its banners is available at http://www.savemart.com.