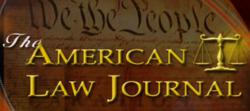 "The next four years are pivotal," says Mauro, "we could conceivably have no vacancies, but I think it's unlikely."
Philadelphia, PA (PRWEB) October 31, 2012
Two out of three Americans say the United States Supreme Court is an important factor in the way they vote for President. Only in the last few days have the candidates and media discussed how an incumbent or incoming President's nomination to the Court could affect citizens for a lifetime.
Online now and this Sunday, November 4 at 5:30 p.m. on the Philadelphia CNN-News affiliate WFMZ-TV, The American Law Journal presents "Does the Future of the Supreme Court Matter in This Election."
Joining host Christopher Naughton are Tony Mauro, veteran reporter for the Supreme Court Insider and American Lawyer Media, appellate trial lawyer Howard J. Bashman, Drexel University Earle Mack School of Law professor Pammela Saunders and Villanova University School of Law professor Tuan Samahon. Commentary is provided throughout the program by CNN Legal Analyst and author of "The Oath," Jeffrey Toobin interviewed earlier this month at the Philadelphia Free Library by Gina Passarella, Senior Staff Writer for The Legal Intelligencer newspaper.
The panel examines how critical issues on affirmative action, abortion, voting rights, corporate power and gay marriage might hinge on who a President Obama- or a President Romney- selects for the Court.
"The next four years are pivotal," says Mauro, "we could conceivably have no vacancies, but I think it's unlikely."
About The American Law Journal:
The American Law Journal is the weekly talk-feature program airing on the CNN-News affiliate for Philadelphia, WFMZ-TV 69 to Pennsylvania, New Jersey and Delaware. Hosted by attorney and former New Jersey prosecutor Christopher Naughton, the program addresses consumer, business and Constitutional issues both in-studio and on location. In the 2012-2013 television season, the program airs Sundays at 5:30 p.m. and beginning November 19 will also air Monday nights at 7:00 p.m.
The program is available on http://www.LawJournalTV.com as well as iTunes.
Visit http://bit.ly/ALJoniTunes to view this program, subscribe or view previous programs. View WFMZ-HD over the air and on all cable and satellite systems, see http://bit.ly/ALJchannels. FiOS system subscribers tune to channel 15.
Next week on The American Law Journal: "Drugs & Docs: Is a Pharmaceutical Company Paying Your Doctor."