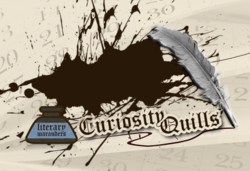 For the second year in a row, you're toiling away at your NaNoWriMo entries - now it's time to make them count!
Leesburg, VA (PRWEB) October 31, 2012
The Curiosity Quills Press team invites all aspiring authors aiming to complete a novel during NaNoWriMo (National Novel Writing Month) to enter their finished works in this year's NaNo-Virtuosos Competition, starting from the last week of November, 2012.
For the second year in a row, the publishing house is getting ready to open its doors to eager challengers who have survived NaNoWriMo's grueling 50,000 word benchmark. Just like last year's competition, the grand prize is notable indeed: an exclusive publishing deal, professional editing of the winning manuscript, Amazon gift cards, and a brand new Google Nexus 7 tablet.
NaNo-Virtuosos will run through Valentine's Day of 2013, and take place across three rounds of voting and revisions. The one major difference from last year's event is the introduction of a panel of judges, consisting of industry professionals and notable authors. The panel will offer their insights, and also be involved in picking the finalists in Round Two.
Another new feature of this year's competition is the Synergy Prize - a celebration of the fans and readers who are helping make the event possible, as well as supporting their favorite authors and entries. The Synergy Prize drawing will take place at the end of Round Three, rewarding one lucky participant with their own Google Nexus 7 tablet, just like the grand prize winner.
Other prizes for participating authors include professional cover illustration, marketable blurbs from an all-star panel of judges, and several secret gifts that will be announced throughout the progression of the event - all of which should make for an exciting holiday season. Meanwhile, readers and spectators will have ample opportunities to win free books by currently published Curiosity Quills Press authors.
Curiosity Quills Press Marketing Director, Lisa Gus, shares some words of encouragement with her fellow writers:
"For the second year in a row, you're toiling away at your NaNoWriMo entries - now it's time to make them count," Lisa Gus says, "The competition can't be more exciting than now, so bring the best you've got!"
Important dates, rules, and full description of each competition round can be viewed at: http://curiosityquills.com/giveaways-contests/nano-virtuosos-competition-2013/
Lisa Gus and the rest of Curiosity Quills Press hope to use these final days of NaNoWriMo to spread the word about NaNo-Virtuosos and look forward to reading the entries.
####
About Curiosity Quills Press
Curiosity Quills Press (http://curiosityquills.com), launched its independent publishing imprint in June, 2011 by writers, for writers, out of a common frustration with the state of publishing today. Instead of relying on readers to sift through the so-called "Amazon slush-pile", CQ presents a uniformly top-notch level of quality, tastefully curated, hard-hitting storylines, and memorable characters readers won't forget amidst their Kindle downloading sprees.
We know it's hard to stand out from the crowd when it's millions large, but Curiosity Quills Press helps level the playing field through its members' innovative social media approach, a transparent culture, and a deeply passionate team.