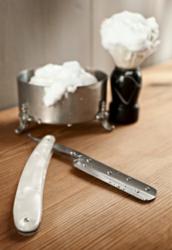 "We are excited to offer access to another proven brand for our loyal clients, members and retail shoppers," says Ben Davis, founder and CEO of The Gents Place.
(PRWEB) October 31, 2012
"The Art of Shaving brand was founded in the United States and opened its first store in Manhattan in 1996. The brand specializes in luxury men's shaving and skin care products. Some of the products include pre-shave oil, shaving cream, after shave, shaving brushes, razors, facial wash, facial scrub, toner, eye gel and much more. They also offer complete shaving and grooming kits for the busy businessman or the gentleman who just wants to take the guess work out of his skincare regimen. " (http://www.theartofshaving.com)
About The Gents Place
Founded in 2008 by Ben Davis, a frustrated guy who hated getting his haircut, The Gents Place offers men's grooming and lifestyle products and services in a masculine, yet relaxed country club type environment. They offer men's hair services, hand and foot repairs, straight razor shaves, massages, shoe shines and more. Frequently referred to as America's Premier Men's Grooming and Lifestyle Club with locations in Texas (Dallas, Frisco) and Kansas (Leawood), The Gents Place is known for its commitment to client service and top shelf amenities.
Please visit http://www.thegentsplace.com/ to learn more about The Gents Place or to find a club near you.