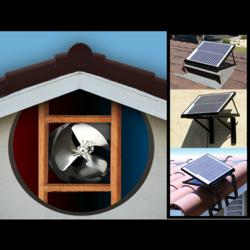 I have reduce the mold and mildew smell in my attic and crawl space. I no longer have a musty smell on all the items stored in my attic.
Incline Village, NV (PRWEB) October 31, 2012
Contrary to popular belief, a warm attic in the winter months is more harmful than beneficial for the health and energy efficiency of a home. When warm attic air collides with the cold underside of roof sheathing, condensation is formed; the combination of condensation and warm attic temperatures can cause numerous problems for a home:

Warm air combined with moisture contributes to mold and mildew growth
Condensation dripping on attic insulation causes the insulation to lose its effectiveness, thereby contributing to escalated heating costs
Warm attic air causes snow on the roof to melt and drip down to the attic eaves where the moisture freezes, creating an ice dam
As a solution for these common winter ailments, U.S. Sunlight offers the All Purpose Ventilator as the optimal solution. The All Purpose Ventilator is a simple afternoon DIY project that turbo charges existing static vents to treat a home of symptoms caused by warm attics and crawlspaces. The All Purpose Ventilator is simply placed in the interior space behind a static vent – such as a gable, eyebrow or turbine vent – and connected to a solar panel placed on the exterior of the home using the included 30' of wire. Without requiring any holes to be cut in the roof, this project provides numerous benefits in the winter time and will continue to benefit the health of the home and energy bills in the summer as well. Customers praise the benefits and ease of installation of the All Purpose Ventilator:
"I have reduce the mold and mildew smell in my attic and crawl space. I no longer have a musty smell on all the items stored in my attic."
"This was easier to install than expect. I watch the videos online and it went just as outline. My air conditioner does not kick on until late in day, I feel like I am saving money every day."
U.S. Sunlight offers a range of All Purpose Ventilators to suit each home's needs –the 1010APV, the 9910APV and the 1015APV. Each All Purpose Ventilator is compatible with U.S. Sunlight's Solar Controller™. The Solar Controller intelligently manages the fan's operation to ensure humidity levels and temperature levels are maintained at a healthy level as well as offering the option to power the fan using a minimal draw on AC power when the grey skies of winter are in effect.
Brianne Fugate, Senior Accounts Executive at U.S. Sunlight, recommends "Add an All Purpose Ventilator for an easy DIY winter project with numerable benefits. Do it before December 31, 2012 and get the 30%federal tax credit on your tax returns in January! Make sure to check http://www.ussunlight.com for additional rebates and incentives in your area. Call me at 877-55-USSUN to be connected with a professional installer in your area or for any installation questions you may have!"
Save money by harnessing green energy. Call U.S. Sunlight today to learn more about how the All Purpose Ventilator Solar Fan can improve the health of your home.
Best of Show
With over 100,000 products in the 2011 National Hardware Show, our Solar Attic Fan and Solar Controller caught the attention of retailers, media, and trade professionals, and won one of the Best of Show awards.
Best Sustainable Product
Nominated by the editors at BuilderNEWS publications as the Best Sustainable Product of 2011
About U.S. Sunlight Corporation
U.S. Sunlight Corp strives to provide "Alternative Energy for Everyday Life," by designing and manufacturing innovative and effective solar and green products to save money for the homeowner.