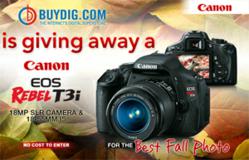 Edison, New Jersey (PRWEB) October 31, 2012
BuyDig.com, the Internet's Digital Superstore, is proud to announce the beginning of its "Themes of Fall" photography contest. Run via its Facebook page, this contest allows participants to send their photographs in for the chance to win a Canon T3i DSLR with an 18-55mm lens. The winner will be the person whose photograph receives the most votes from other Facebook users. This contest will end on November 20, 2012.
In addition to this contest, BuyDig.com would like to remind readers that it is among the first retailers who will receive the latest cameras from Pentax and Canon. BuyDig.com also has the most recent cameras from Samsung and Nikon in stock and ready to order. All of these cameras and more are already available for purchase or for pre-order on BuyDig.com.
First in the line-up is the Pentax K5 waterproof SLR. This weather-proof camera packs a punch well above its weight limit. It comes with a 16.3 megapixel CMOS sensor capable of rendering high-resolution photographs. The sensor also includes analogue to digital conversion capability. The all-new 11 point SAFOX X autofocus system offers the widest EV focus range in its class while the high sensitivity 80-51200 ISO range reduces noise, giving photographers clear, crisp images even in low-light settings. Like many new cameras entering the market, the K5 II has an on-board HDR setting which allows the user to capture multiple exposures of the same scene and put them together, seamlessly, to the greatest impact. This camera is available for pre-order and will ship as soon as Pentax releases them.
Next comes Nikon with their microscopically tiny Coolpix S01. This compact camera offers a wide array of features as well as being easily portable. It comes with a 10.1 megapixel sensor, an intuitive touch-screen and menu system, a wide selection of creative modes including High key, Low key, Nostalgic sepia or High-contrast monochrome Special effects for both still and video photography, and a 3x optical zoom NIKKON lens with built-in flash. This bite-sized camera allows the photographer to take his photography wherever he goes with easy portability and 7.3 GB of on-board storage. Available for less than $200, this camera makes a great gift for the novice photographer or the seasoned pro.
Thirdly is Samsung with the NX series "Smart" SLRs. Samsung has released several new cameras in this classic line-up, among them the NX1000, the NX20, and the NX210. All of these cameras are Samsung "Smart" and come with on-board WiFi, allowing the photographer to upload his photos quickly and easily to Facebook, Twitter, or YouTube or to store them on his computer wirelessly. All three cameras also come with a 20.3 megapixel APS-C sensor capable of capturing high-quality still images or 1080 30p full HD video. In addition to these new features, these three cameras come with all of the traditional Samsung bells and whistles – a plethora of shooting modes, an easy-to-navigate menu system, and a wide range of ISO settings. With prices too low to be shown, any of these cameras will make a great gift for any photographer!
Last but not least come two cameras from Canon: the Canon Powershot G15 -- on sale now -- and the EOS 6D, available for pre-order. Canon's Powershot, aimed at the prosumer market, comes with all of the features customers have come to expect from Canon cameras. The latest-generation Canon DIGIC 5 Image Processor works with the 12.1 megapixel high-sensitivity CMOS sensor to bring photographs to life. With improved noise-reduction, this set-up captures photos and 1080p full HD video footage with high sensitivity even in low-light settings. A variety of shooting modes combined with the EOS-like dial settings allows the user to customize their settings for the best effect in their photography. Meanwhile, the EOS 6D DSLR continues the Canon tradition of excellence and comes with a sophisticated new wireless system to allow for easy storing or uploading or for using a smartphone as a remote control for the EOS 6D. Nature and wildlife photographers will love the built-in GPS and geo-tagging feature while any photographer will swoon over the new ergonomic body design along with all of the high-end features professionals have come to depend on in Canon's EOS series. Pre-orders for the EOS 6D will ship in December so those interested are urged to reserve theirs today.
In addition to these new selections coming out, BuyDig.com has the Sony Action Camera, previewed in August, available for sale now. Great for the adventurous photographer, this camera comes with a price that will fit any budget!
About BuyDig:
BuyDig.com (http://www.buydig.com) is a family-owned and operated online retailer based in Edison, New Jersey. Founded in 1983 under its parent company, Beach Trading Co. Specializing in selling digital cameras, electronics, computers, tablets, audio/video, home and garden, kitchenware and more, BuyDig has worked to become the internet's #1 electronics superstore. BuyDig partners with many of the major CE manufacturers such as Canon, Samsung, Sony, HP, SanDisk, Garmin, Pyle, and Toshiba to make consumer technology and electronics affordable and available to the widest market possible. BuyDig also offers free shipping on most products as well as a 45-day return policy on items purchased from their store. By combining legendary customer service with a philosophy of providing more for less, BuyDig.com has earned its reputation as the premier destination for consumer electronics.