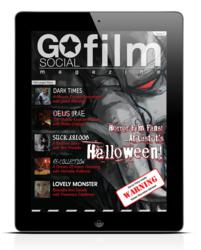 Go Social Film proves that cinema isn't dead, it's just existing in the online world with the next generation of filmmakers.
San Francisco, CA (PRWEB) October 31, 2012
Go Social Film today announced the latest lineup of international short films featured in its digital pages. In celebration of Halloween, the films selected are all from the horror genre, with stories ranging from flesh eating zombies, to haunting bedtime stories, to coldblooded exorcist hitmen.
Each monthly issue of the digital iPad magazine features short films streamed to readers in their entirety, along with in-depth filmmaker interviews exploring the production backstory of each film. This month's issue of Go Social Film is the first to focus on a single genre. Horror.
"We grew up watching films like "Friday The 13th", and "Dawn Of The Dead". There's nothing like the thrill of a good scary movie. With this issue of the magazine, we wanted to bring to our readers some of the amazing horror films being beautifully crafted by today's filmmakers, and pay homage to this genre which holds a special place in our hearts." Jason Rogan, Artistic Director, Go Social Film Magazine
Pioneering a new model for short film distribution, Go Social Film uses the magazine format on the iPad's Newsstand to deliver entire short films, interviews, and behind the scenes material, creating for film lovers a more satisfying reading and viewing experience than has previously been available.
"Go Social Film proves that cinema isn't dead, it's just existing in the online world with the next generation of filmmakers. The magazine is beautifully presented in way that demonstrates their own love for film, and the burgeoning digital marketplace." Ben Franklin, Producer "Suckablood"
The Go Social Film iPad Magazine App is "iPad Mini Ready", and available for free download in the iTunes Store now - http://www.iPadFilmMag.com
The horror films shorts featured in Issue #4 of Go Social Film are:
"Suckablood"
Producer Ben Franklin, United Kingdom
The tale of a young girl, too scared to suck her thumb, lest the dreadful Suckablood from her nightmares might come! A stylish fantasy that mixes Dr. Seuss, Brothers Grimm and Tim Burton, with a very wicked Bloody Cuts twist.
"Deus Irae"
Director Pedro Cristiani, Argentina
A fragile border separates our world from the realm of darkness, where nightmarish creatures await in the shadows. Only one thing is standing in their way: a secret order of priests, who devote their souls to protect this border. They are the 'Deus Irae'.
"Re-Collection"
Director Nicholas Kallincos, Australia
The tale of a celebrated Entomologist who is haunted by his insect collecting past. Under the veil of sleep, nightmarish dreams and visions unfold, threatening to become his reality.
"Lovely Monster"
Director Francesco Calabrese, Italy "Lovely Monster" tells the true story of Sophia, a young woman dealing with a rare and very dangerous condition.
"Dark Times"
Directors Jared Marshall and Peter Horn, United States
It's Christmas time and the employees of the Blue Skies Nuclear Power plant are gearing up for the best holiday party ever. After a reactor meltdown they'll soon find out that the woods this year aren't exactly filled with Holiday Cheer...
Notes to Editors:
About Go Social Film Magazine:
"Bringing You The Best Short Films From Around The World, Straight To Your iPad."
Go Social Film Magazine is published by Go Social LLC. Each month readers are treated to a variety of short films from filmmakers around the world, and are taken behind the scenes to meet the filmmakers and learn about the production of their films through exclusive interviews, unseen footage, and interactive multimedia articles. Go Social Film Magazine's mission is to seek out talented international filmmakers with unique and compelling short films, and bring them to a global audience via the iPad and iPad mini.
About Go Social LLC:
Go Social LLC is a San Francisco based publishing and social media marketing company with partners in New York and Amsterdam, The Netherlands.
For more information contact Nadzeya Huselnikava at nadzeya at gosocialfilm dot com or visit their website http://www.GoSocialFilmMagazine.com.