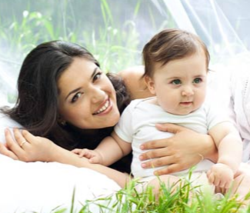 We designed these cloth baby diapers to address 3 major concerns for new parents; affordability, child safety, and the environment.
(PRWEB) October 31, 2012
The average baby in the USA will use about 5,000 to 7,000 diapers in their first two years of life. New parents can expect to pay about $2,000 - $2,500 on disposable diapers by the time their child is potty trained, $1000 more if eco-friendly or biodegradable diapers are used. Respectively, a new family's disposable diaper expense could legitimately fund an elaborate week long vacation in Maui for 2, or a pony for little Susan.
Many parents are typically exclusive to either cloth diapers or disposable diapers, but not usually both. Michael Kline, founder of Home Delivered Diapers, states that, "Using both cloth diapers and disposable diapers for your babies has tremendous advantages. There is a vast financial savings involved with cloth diapers, but using disposables when you are out and about is much more convenient". Home Delivered Diapers carries a high quality brand of disposable diapers called "Cuties". Not only are Cuties Diapers much cheaper than most name brand baby diapers, but they are also hypoallergenic and chlorine free diapers, like Smarty Pants.
Are cloth baby diapers worth it? The Real Diaper Industry Association (TRDIA), a group that represents makers of cloth diapers, says a survey it did found a 30% increase in cloth diaper sales between 2000 and 2007. According to TRDIA, cloth baby diapers are approximately one tenth the cost of disposables. At 6 changes a day, disposable diapers cost about $.25 cents per change on average; Smarty Pants cloth diapers cost closer to $.04 cents per change. Priced at only $13.99, parents can expect to save upwards of $2,000 by purchasing as little as 20 or 30 Smarty Pants cloth baby diapers for their babies.
Smarty Pants cloth baby diapers are the brain child of designer Michael Kline, Director of Operations for Home Delivered Diapers. "We designed these cloth diapers to address 3 major concerns for new parents; affordability, child safety, and the environment", says Kline. Kline goes on to say, "I don't want to bash disposables, but the fact is that most disposable diapers contain harsh chemicals, clog landfills, and cost a fortune. Smarty Pants addresses all of those concerns in one affordable cloth diaper".
Facebook Promotional Giveaway
During the election month of November of 2012, Home Delivered Diapers will be hosting a poll on Facebook: "Cloth VS Disposable". Parents are encouraged to cast their vote for either cloth diapers or disposable diapers. All voters will be entered to win 1 of 20 free cloth diapers, or a trial package of Cuties brand disposable diapers, depending on their vote. Anyone that becomes a fan of Smarty Pants on Facebook will be entered to win ongoing drawings for diapers, grab bags, and other promotional items. Smarty Pants grab bags are promotional bags containing 3 water proof cloth diapers, a wet bag and a package of 6 organic diaper inserts.
Smarty Pants organic cloth diapers are available now at http://www.homedelivereddiapers.com. Home Delivered Diapers offers Free Shipping on orders of $50 or more for all products ordered online, orders by phone are also available by calling 855-881-2196. Home Delivered Diapers is also accepting applications from distributors and retailers, parties interested in carrying Smarty Pants are encouraged to contact Mike Kline at sales (at) klinems (dot) com.