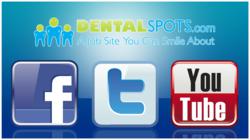 A dentist's top priorities are providing patient care and running a profitable business.
Dallas, TX (PRWEB) October 31, 2012
DentalSpots.com, the premiere online dental jobs matching portal headquartered in Dallas, TX, is making constant upgrades to its site which are aimed at changing the way members of the dental community connect. Previously dental professionals who were offering or searching for jobs had to resort to professional publications or local media, and then go through a time-consuming process to match dental employer with dental job seeker. In a similar fashion, dentists who wanted to find or share information might have to read professional publications or wait until an industry conference.
"A dentist's top priorities are providing patient care and running a profitable business," commented Feridoon Amini, co-founder of DentalSpots.com. "With today's improved communications, there is no reason they need to resort to time-consuming and inefficient means of filling jobs or communicating. Everything they need should be available in one convenient web portal and that's exactly what we are doing with DentalSpots.com. We are changing the way dentists communicate with each other and with patients."
Dental job seekers who are hunting for a job no longer have to Google "Dental Hygienist Job Dallas TX" or "Dental Assistant Job Dallas TX" to find their perfect job in dentistry. At DentalSpots.com they can register and post an online profile complete with an audio or video resume or search for existing full- and part-time dental jobs. Access is available from the web or any mobile device including Android or iPhone.
A Community release which will be operational by year-end will give dental professionals the opportunity to connect with each other, much like the features now available on LinkedIn, but specifically geared to the dental profession. Dentists will be able to visit discussion boards for information on dental topics and chat with other professionals in their network. The goal is to make DentalSpots.com the first professional online networking site for dental professionals.
Together with his wife and DentalSpots.com co-founder, Dr. Mojan Safavi, a practicing Dallas dentist, Amini has also established another site, ChooseYourDentist.com, which helps dentists connect with prospective patients. By linking the sites, dental professionals can easily access requests for patient information or appointments through their DentalSpots.com dashboard. Another benefit of the community is that employers who have purchased a ChooseYourDentist.com subscription will be able to get patient referrals from other dentists.
DentalSpots.com is streamlining the process of finding a full-time or temporary position in a dental office. Further information may be obtained by visiting http://www.dentalspots.com, connecting on Facebook, following @DentalSpots on Twitter, or calling 1-800-971-8008.