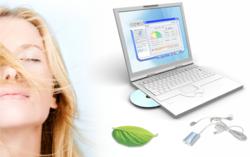 Breathing can be an enjoyable experience that not only reduces stress but changes lifestyle once and forever.
Seattle, WA (PRWEB) October 31, 2012
A group of international scientists released a simple-to-use tool that helps reduce stress and builds strong resistance to the impact of stress in as little as 15 minutes a day. The tool provides a biofeedback training that allows controlling the accuracy of person's paced breathing based on the impact on the autonomic nervous system. With an increasing level of challenge, it leads user to the enhancement of the overall immunity and body's increased resistance to stress.
For many centuries deep breathing has been known to reduce stress in the body and normalize blood pressure. Paced breathing is essential for the proper and efficient functioning of the brain, nerves, glands and other organs. It is tightly coupled with the nervous system and the brain, sending signals to relax and triggering the natural ability of the body to heal itself. Proper breathing is extremely powerful and brings lots of health benefits.
There are lots of techniques and instructions that help people breathe right. However, most people do not see any effect of the breathing and come to a false conclusion that it simply does not work. Or it does work but not for everybody. However, proper breathing does help to everybody with no exceptions. And the reason for the no effect is simply improper breathing. Specialists from Health Reviser proved that in several studies and now challenge everybody to take a breathing training implemented in Health Reviser's Stress Sweeper tool.
Stress Sweeper suggests users to follow the moving pacer on the screen showing the precise breathing pattern. User can see in real-time on computer display how his breathing impacts the body and gets a score at the end of the assessment reflecting the accuracy of the breathing during the training session. Users that get higher score will be moved to higher level with increased level of breathing challenge. Health Reviser creator's idea is that those users who reached the maximum proficiency level in Stress Sweeper will be trained enough to successfully handle stressful situation without the tool and forget about problems with high blood pressure. As Health Reviser study shows, 9 out of 10 users were able to normalize their blood pressure in 5 to 15 minute training session in Stress Sweeper, assuming high breathing score.
"Breathing is a great power of the human body," explains Alexander Bandarchuk, VP of Engineering. "It can exhaust the body or reveal the energy of healing. We can feel the air filling our body, the relaxing waves of deep rhythmical breathing, and simply let the body do its job of taking care of itself."
Health Reviser is a consumer health and fitness monitoring system backed up by professional technologies being used for about 20 years in more than 30 countries and 50 Universities in USA, Europe and Japan, by Russian Academy of Science and Russian national research organization for space medicine and many others.
Many thousands of users worldwide control their health and fitness with Health Reviser. They are able to pick the food best suited for their bodies, exercise at their personal best time of the day, have a better sleep, monitor their health risks, and track their fitness progress.