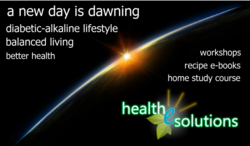 "We are bringing the core workshop to the consumer through a variety of audio, video and e-Book options."
Mesa, AZ (PRWEB) October 17, 2012
HealtheSolutions has long provided private and group workshops teaching natural, innovative alternatives for managing type 1 diabetes with strategies and techniques that may help stop potential long term disease progression. Now, HealtheSolutions has created several home study course packages that provide a foundation upon which to build a diabetic-alkaline lifestyle to optimize blood sugar control, minimize dependence on medications and set a course to better health.
Creation of the HealtheSolutions Workshop Home Study Course was driven by demand from consumers who could not make it to a workshop, but wanted the core workshop experience. "There is nothing as exhilarating as attending the Techniques and Strategies Workshop, where you get to meet and be encouraged by other like-minded people and interact with guest presenters, doctors and more," explained Dan Roman, President and Founder of HealtheSolutions. "However, we understand that not everybody can make it to a workshop. So we are bringing the core workshop to the consumer through a variety of audio, video and e-Book options."
"The Home Study Course can meet the needs of a much wider market, since the audio and video is available for download or streaming any place in the world, and the accompanying recipe e-book and course notebook can be downloaded in PDF format. "With several course options available there is a package to meet each individual's needs," said Roman.
Dr. Mona Morstein, N.D., Faculty Chair of Nutrition, Clinical Supervisor, Associate Professor, and Professor of Gastroenterology, Southwest Naturopathic Medical Center stated, "I support [HealtheSolutions'] alkaline methodology and am the referral physician for the advocates of that system. I've seen myself how effective the program can be for Type 1 diabetic patients – it significantly lowers their glucose levels, reduces or removes insulin needs, and some TIDM [Type 1 Diabetes Mellitus] pediatric patients have become antibody negative. The Roman's alkaline program is a valid alternative for Type 1 patients to investigate."
The natural, innovative approach detailed in the Home Study Course is designed for people who want to make lifestyle changes to minimize dependence on insulin and other medications. The Roman's special emphasis has been on families with children with type one diabetes, but the principles are applicable to all ages, all types of diabetes and to a wide variety of autoimmune diseases. "Our goal and passion,' declared Sally Roman, co-founder of HealtheSolutions, "is to help others overcome their disease in the healthiest way possible."
People interested in learning more about the HealtheSolutions Home Study Course or other products and services can visit http://www.healthesolutions.com, or contact Dan and Sally Roman at 480-834-7447.
About Health-e-Solutions
After diligent research, Dan and Sally Roman discovered the elements that comprise the diabetic-alkaline lifestyle. Through an ongoing process of combining various alternative measures and seeing the cause and effect of different foods, they have fine-tuned this innovative lifestyle for greater success and easier, more practical application in a busy world. They now enjoy helping others learn the practical application of the diabetic-alkaline lifestyle though their company HealtheSolutions. The Romans offer workshops, consultations, recipe e-books, and home study course packages, along with a free newsletter and numerous free articles, research, recipes, and resources.