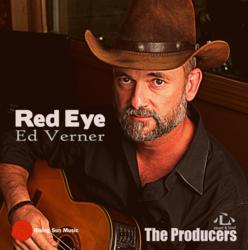 A songwriter is not someone who writes a song, but someone who can't help but write a song," says Ed, "and a perfectly done song is multidimensional.
Plant City, Florida (PRWEB) October 23, 2012
Ed Verner's newest album "Red Eye" is comprised of 12 new originals around the theme he describes as, "that feeling akin to having flown a red-eye flight. On the one hand you are glad you made the trip, but on the other hand you are strangely exhausted and would enjoy a rest."
His songwriting began at the age of 14 and with his newest album "Red Eye," Verner now has 5 albums to his credit. "It seems almost surreal to look back," he says, but adds how it is important to him to be crossing genres and breaking down style barriers.
Verner is a huge supporter of artists being paid for their work, and enjoys collaborating with first class musicians. In "Red Eye," Verner delivers his 3rd album with John Seda, owner of Rising Sun Music, Rising Sun Studios, Rising Sun Digital and The Producers Heart and Soul. While recording with Seda, Verner became aware of BornAMusician.com's "Insanity" project to raise funds for the production of a musical documentary about the pitfalls of the music industry; and Verner was happy to become the first Kickstarter investor to back it. "It sounds like a funny and effective way to get important lessons across. I'm looking forward to seeing "Insanity."
Verner believes in education and communication as an essential component of music. "You have to reach young and old, far and wide with art and music. That's what cinema and video do, and yet each of these are dependent on music." Verner says he likes to invest where stories are preserved and that he likes to fix things that are broken or missing something. He recently invested in a start-up newspaper in his hometown, the Plant City Observer, which is hyper-local in content, as well as Rising Sun Digital and BornAMusician.com which are global in their reach. "They may appear diverse, but they share a theme of communication."
His big-time interests and hobbies also include being a licensed Coast Guard Captain and sailor. He owns a 1976 Allied Sea Wind II 32' ketch and says "she is the prettiest girl at the dance with very classic lines." Verner also enjoys being a pilot of a fully aerobatic aircraft. He owns a 1986 Skybolt open cockpit biplane that "is a sheer joy to fly."
While his growing music work consumes a lot of his time, sailing, boating, writing, and investing comprise the rest. He is the executive producer for John Seda's Rising Sun Music project "Teach The Dream" and plays 90% of the piano on it. Years ago his start towards serious musical recording was in a 30-minute documentary film, "Dancing with the Wind," where he says, "I tried to use the human voice as an instrument to enhance the film's experience of a musical meditation on the romance of sail." True to form, Verner played the featured instrument of this score, a heritage 1875 Rosewood Steinway Style 2 grand piano that he restored years prior. It is the featured piano in his home studio and is utilized when he and Seda decide a song needs a real acoustic grand piano. He says many of his songs were written on his beloved piano, with hopefully many more to come.
Ed's albums are available on ITunes.
Red Eye
https://itunes.apple.com/us/album/red-eye/id571625516
Blood Moon
http://itunes.apple.com/us/album/blood-moon/id390275273
*** Other Links***
Kickstarter
http://www.kickstarter.com/projects/2011665292/insanity-a-music-parody-video-web-series-documenta
Born A Musician
http://www.BornAMusician.com
Rising Sun Digital
http://www.risingsundigital.com
Rising Sun Music, John Seda / President & Producer
http://www.risingsunstudios.com