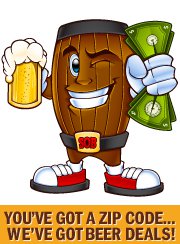 Saving a few dollars here and there can save you a few hundred dollars by the end of the year.
Houston, TX (PRWEB) October 10, 2012
Beer spending is one of those sectors of the economy that continues to be recession-proof. Americans consumed 8,934,446 barrels of domestic craft beer in 2009 and 9,951,956 barrels in 2010, according to the Brewers Association. All in all, we consume a good $101 billion worth of beer each year. World-wide, global beer consumption increased 2.4 percent in 2011. Despite our unquenchable taste for beer, it can really hurt one's pocketbook over time.
SaveOnBrew.com is America's only beer price search engine. Site visitors need only enter their zip codes into the search engine to access the best advertised deals in their towns. They can also filter beer listings by craft/microbrew/cider, imports, domestic, flavored drinks, brands, stores and quantity. SaveOnBrew features everything from Coors Light, Labatt and Budweiser to Stella Artois, Guinness and Magic Hat, with new beers being added to the database every day.
"What we've found is that beer prices vary widely from store to store and, depending on the deal and your beer consumption, saving a few dollars here and there can save you a few hundred dollars by the end of the year," explains company cofounder James Smith.
Here are a few other tips for saving money on beer during a recession:
1. Choose beer! A large number of people are migrating to craft beer from the wine market. A $9 six-pack is much more affordable than a $20 bottle of wine.
2. Find a local reward club and join! For instance, in New York, Consumer's Growler Club lets members earn a free growler of beer once they accrue enough points. Most breweries offer a club awarding members with points for every beer purchase that can be redeemed for food and drinks.
3. Drink in Milwaukee, Wisconsin. Based on SaveOnBrew's data, these are the most affordable states, says Data Operations Manager Mark Davidson. It doesn't hurt that every other building is either a factory or a brewery. Milwaukee is the only place we've seen dollar pitchers of good, all-American beer.
4. For outings, be sure it's Happy Hour. Drinks are often half-price from 4 to 7 pm.
5. Look for a good domestic. People who have expensive beer tastes may find themselves pleasantly surprised by a more full-bodied domestic beer like Yuengling's Black & Tan, which isn't very expensive at all.
6. Buy based on rebates. Who doesn't love saving $10 - $20 on a case of beer? Consumer's Beverages and supermarkets are ideal places to look for beers with that enticing rebate form affixed. Unfortunately, due to vastly different beer laws, rebates are not available in all states.
7. Visit http://www.SaveOnBrew.com to locate the cheapest advertised beer prices in town. Their new, free, mobile web site makes finding beer deals on-the-go a breeze.
About SaveOnBrew.Com: Founded in 2010 to help thirsty beer drinkers across the United States find the lowest advertised prices for one of the world's most popular beverages.