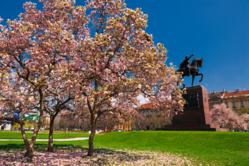 Now we think the time has come to continue our path as an independent hotel. The Esplanade is a prestigious hotel and I may freely say that it is a brand for itself
Zagreb, Croatia (PRWEB) October 02, 2012
The Legendary Esplanade, following eight years of operations under the Regent flag, finally chooses a path of independence.
The Esplanade, the most prestigious Zagreb hotel, opened its doors in 2004 as The Regent Esplanade Zagreb» following a complete renovation. Considerable deliberation by the Owners WSF Group has resulted in a desire to return the property to its citizens as the crown of Croatian independent hospitality and in so doing run the property independently.
The Regent brand has experienced a varied growth program since 2004, culminating in a sale of the Brand to Formosa of Taiwan. The program however did not correspond with the Esplanade's and Owner's directive, and as such the decision to be independent was taken.
"Now we think the time has come to continue our path as an independent hotel. The Esplanade is a prestigious hotel and I may freely say that it is a brand for itself. I am highly convinced that the hotel will experience growth due to the excellent team that I am really proud of," said Ivica Max Krizmanić, the hotel's General Manager, and added: "Since it was built in 1925, this hotel has set up high standards in providing supreme service to its guests. We will continue to pursue the abundant tradition of the hotel Esplanade and preserve its high standards of personalised service to all who are in search for pleasant ambience and friendly and relaxed service."
WSF Group is confident that the move to independence for such an emblematic property will provide great opportunity for the Esplanade – according to Mr. Daniel Koetser (a WSF Group Partner)
From 1st October 2012 Esplanade will operate as The Esplanade Zagreb Luxury Hotel.