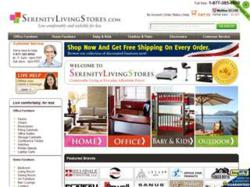 Vancouver, BC (PRWEB) October 09, 2012
Serenity Living Stores, an online furniture specialist serving customers in the United States and Canada, offers a full line of furniture, equipment and accessories for babies and children. Providing home furnishings means being ready to help customers with every part of their home, including a nursery for a new baby or a charmingly decorated room that will help to accomplish the impossible and make a toddler actually want to go to bed. Serenity's emphasis on quality means that while the most well respected brands are represented in-store, the company's focus on value means that customers will find those brands sold at low enough prices to make specialty children's furniture affordable.
Couples expecting a child sometimes think of "the crib" as the sole piece of furniture they will need, but experienced parents know that a well-equipped nursery should contain a great deal more. A sturdy changing table provides a safe place for baby to lie during diaper changes and will also help new mothers and fathers avoid having to bend down into awkward positions several times a day as they care for their precious bundles of joy.
Also indispensable is a rocking chair with armrests, so that parents have somewhere to lean their elbows, helping to support a baby as he or she is lulled into a peaceful sleep. Little ones need a surprising number of clothes and this is why baby bedroom sets at Serenity frequently feature a matching dresser. Parents should also investigate the lightweight strollers offered at Serenity, so they have a convenient way to take baby outside to get some fresh air.
Babies, of course, have a habit of growing up fast, but Serenity is here to meet the growing and changing needs of children as they transition into toddlers with minds of their own. An extensive selection of toys is available online, along with a variety of toy boxes, so that children can begin, at a young age, to learn to pick up their things. Once baby outgrows his or her crib, a whimsical bed with matching accessories can take its place. Another great addition, even at younger ages, is a bookshelf, along with a supply of age-appropriate picture books to generate an early interest in reading.
Serenity Living Stores backs all of the products it sells with a 100% guarantee. Customers, who are not happy, for any reason, have 30 days from delivery to provide notification of a problem. At that point, their options are several and include an item exchange, a full refund of the purchase price or a credit to their account at Serenity. The product must merely be returned in original condition. In some cases a restocking fee may apply.
For more information about the baby and children's lines available from Serenity, please visit the website, where you can chat with a representative, search for a specific baby item or browse an extensive line of furniture for kids.