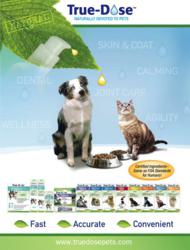 Syncrocloud has the functionality to pull together relevant content and create communities around it
St. Louis, MO (PRWEB) October 30, 2012
True-Dose™ is now providing pet parents with access to a library of resources specifically targeted to common pet needs. True-Dose intends to be more than just a pet supplement provider; they strive to be the most trusted resource in pet care. True-Dose is a unique pet supplement that provides quality products to the animal health industry.
Syncrocloud helped evolve True-Dose's goal of becoming the ultimate pet care resource into a robust campaign of media clouds. Syncrocloud, the ultimate online multimedia solution, allows users to gather, organize, promote, and distribute many online media types all in one spot. Media shared by users includes video, images, links, documents, and blogs.
"True-Dose came to us with the desire to connect with pet owners," said Syncrocloud President Michael Goessling. "Syncrocloud not only gave them the tools to push out content, but also the ability to create a conversation."
Each media cloud is an online resource for a different pet care topic designed to help owners make a more informed purchasing decision for pet care. True-Dose used these clouds to create resource hubs around each popular pet supplement. Thanks to True-Dose, pet owners can now find the best information gathered from across the web in one spot. Information about pet anxiety, dental health, grooming, joint care, agility, and wellness can all be found on True-Dose's Syncrocloud profile.
"Syncrocloud has the functionality to pull together relevant content and create communities around it," Goessling said. By providing pet parents with both valuable resources and top-quality nutritional supplements, True-Dose believes they can help pets across the country to live healthier, happier lives.