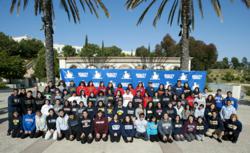 "Reality Changers is a model - not for the city, not for the state, but for the country." U.S. Secretary of Education Arne Duncan
San Diego, CA (PRWEB) October 09, 2012
San Diego, CA: The college application season has arrived! Instead of stressing on meeting all the deadlines, figuring out documentation needs, researching financial aid and scholarship options on your own. Enroll in Reality' College Apps Academy California's #1 tutoring program for college scholarships!
College Apps Academy is a successful and proven program that has assisted hundreds of students to enter the college of their dreams. The Academy's Class of 2012 obtained over $10 million in scholarships to attend colleges throughout the United States. Furthermore, five students received the prestigious Gates Millennium Scholarship, gaining college tuition coverage throughout their entire college career from undergraduate to their doctoral program.
"I always knew that I wanted to go to college, but I didn't know what I needed to do to get there. The College Apps Academy guided me and my family through the college application process and helped me to apply to more than 20 colleges. I am now a student at Harvard University on a full-ride scholarship," Jesse Sanchez, Academy class of 2009 graduate.
Every 12th grader in San Diego County can enroll in the Academy. Visit our website at http://www.CollegeAppsAcademy.org to begin the enrollment process. Don't delay! Enroll today! Open enrollment closes on Friday, October 19, 2012, 5pm. For more information or a presentation, contact JoAnn Fields, Associate Director, Outreach & Communications, Reality Changers' College Apps Academy via phone at (619) 516-2229 or via email at JoAnn(at)RealityChangers(dot)org.
College Apps Academy is a program of Reality Changers whose mission is to provide inner-city youth from disadvantaged backgrounds with the resources to become first generation college students by supplying academic support, financial assistance, and leadership training. Reality Changers is a San Diego based non-profit organization located at 3610 University Ave, 3rd floor, San Diego, CA 92105 in City Heights.