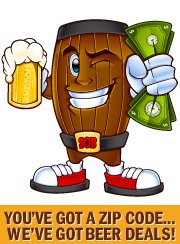 My conversion rate on traffic from SaveOnBrew is more than double than from any other source.
Houston, TX (PRWEB) October 24, 2012
Busy beer drinkers have very limited time to collect and scour all the sales ads every time they need to restock their refrigerators. Unfortunately, that leads to a lot of wasted money on beer that could have been found for a better price elsewhere in town. SaveOnBrew.com found the solution in 2010 when they created the world's only beer price search engine – like Google… only, for beer!
What started off as a group of friends collecting, verifying and publishing the beer sales in their hometown rapidly spread to a more comprehensive, national database supported by beer price spies, participating retailers, brewers, mailing lists, and online circulars. Before publication, all deals are independently verified and all deals are updated fresh on a daily basis.
SaveOnBrew.com attracts over 165,000 page views per month, offering a lot of exposure for business owners. Small businesses say the added leverage has helped them tremendously. Mark Lenzi of Franklin Liquors in Massachusetts explains, "We have been a small, family-owned business for the past 34 years and we wanted to show that our prices are the same – and in many cases better – than big box stores. Online advertising is where it's at."
"SaveOnBrew speaks to the consumer right before they are getting ready to make a purchase decision," says Davidson. "I've tried all sorts of online advertising over the years," says Josh Horowitz, owner of BeerBouquet.com, "but SaveOnBrew.com consistently brings me the best, most qualified traffic. My conversion rate on traffic from SaveOnBrew is more than double than from any other source."
The site attracts advertisers who sell in retail locations, sell online, distribute beer, brew beer, or who sell beer-related merchandise. Listing beer deals on the website is completely free.