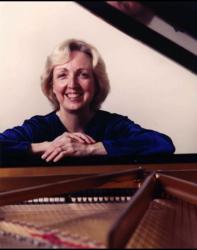 Toledo, OH (PRWEB) October 05, 2012
In October, the Toledo Museum of Art will unveil their Manet: Portraying Life exhibition. To help them celebrate, we've prepared a program of Francophile classics. Great French Romanticists Chabrier, Franck and Berlioz were all contemporaries of the gifted Manet. Toledo favorite Frances Renzi returns to perform Franck's masterful Symphonic Variations, a delightful dialogue between piano and orchestra.
"Her carefully detailed interpretation was full of lovely shadings and sensitive atmospheric effects...a stimulating program, superbly executed."
-The New York Times
"Big time playing by a most talented artist, who is a complete master of the instrument and the music she chooses...extraordinary musicianship...depth of understanding...Everything is well thought out, every note matters, but also in place is the overall arch, the interrelationships of ideas, and a wonderfully banked emotionalism".
-The Toledo Blade
The Francophile Festival concerts are Friday and Saturday, October 19 and 20 at 8PM in the Peristyle. Tickets start at $22. Call 419-246-8000 or visit http://www.toledosymphony.com for more information and tickets.
Frances Rezni Bio -
Pianist Frances Renzi has appeared as soloist with many orchestras including those of Dallas, Houston, Toledo, and the New Hampshire Music Festival. She has performed throughout North America, Taiwan, and China, giving recitals in Weill Recital Hall at Carnegie Hall in New York, on the Dame Myra Hess Memorial Concert Series in Chicago, at the Phillips Collection in Washington, D.C., the National Concert Hall in Taipei and the China Conservatory in Beijing.
An extraordinary chamber player, she frequently collaborates with distinguished artists, and is much in demand as a chamber music performer. She appears regularly as a featured guest artist on the Toledo Symphony Chamber Series and also performs each summer at the New Hampshire Music Festival. She was a founding member of the Toledo Trio at the University of Toledo and performed with them for 27 years.
She has recorded solo and chamber music for Centaur, Educo, Koch International, Musical Heritage Society, Azica, Audite, and Decca/Argo. Her numerous recordings have won critical acclaim and many awards in Europe and the United States. Her recording of 20th century etudes by American composers Ned Rorem, Vincent Persichetti, and George Perle received enthusiastic reviews. Fanfare Magazine described her playing as "...absolutely superb...crystal-like articulation, impeccable rhythmic precision, unflagging energy, and a truly remarkable understanding of these pieces..." Her recording of chamber music of Paul Schoenfield was nominated for a Grammy. Her performances as a soloist and chamber musician have been broadcast on radio and television across the nation including a presentation on National Public Radio's Performance Today.
She was a solo pianist for the New York City Ballet performing Stravinsky's Capriccio for Piano and Orchestra and Brahms Liebeslieder Waltzes and participated in the Stravinsky Festival at Lincoln Center.
A native of Texas, she received her Bachelor of Music degree from the University of North Texas and her Master's degree from the Juilliard School where she was a scholarship student of Rosina Lhevinne and Beveridge Webster. An experienced teacher as well as performer, she is Professor Emerita at the University of Toledo. In 2000 she received a commendation from the Ohio Senate honoring her outstanding university career of 27 years.
The Toledo Symphony
With roots as early as 1838, the Symphony sees itself as the musical heart of Northwest Ohio, supporting Neighborhood and Regional Concerts, a School of Music and three youth orchestras in addition to traditional concert offerings (Classics, Pops, Family, Mozart & More and Chamber).