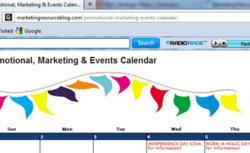 Dallas, TX (PRWEB) October 10, 2012
The goal of advertising is to find a way to make strong connections with prospects. Bagwell Promotions and Bagwell Marketing are announcing a new Promotional Marketing Events Calendar that will help.
The MarketingResourceBlog by John Bagwell includes posts with tips for small to medium-sized businesses. Along with regular articles about how to maximize returns for marketing projects, it has a calendar with holidays and other notable dates along with suggestions to help plan seasonal promotional opportunities.
The Marketing Resource Blog is designed to maximize the results of marketing and promotional initiatives and the calendar is an important service as part of that mission. Appealing activities and popular products will enhance the visibility and build the interest of likely prospects.
The Promotional Marketing Events Calendar is updated monthly. It offers ideas and occasions that may be perfect for advancing a business's marketing goals. For instance, did you know that July is National Ice Cream month? Why not set up a booth outside your retail store and give passers-by free ice cream along with ice cream recipes that has contact information about you? A non-profit might sell ice cream at a public event and include imprinted cups or napkins with every purchase. As Bagwell Promotions President John Bagwell says, "We all scream for ice cream."
August 19th was proclaimed as National Aviation Day by President Franklin Roosevelt to coincide with the birthday of aviation pioneer Orville Wright. By hosting guest presentations, mounting historical displays, or sponsoring aviation-related events, an organization can align itself with the long history of America's entrepreneurial values. The Promotional Marketing Events Calendar gives ideas for self-promotion that relates to notable dates.
For additional upcoming commemorative dates and promotional ideas go to the Promotional Marketing Events Calendar. Bagwell Marketing can be reached toll free at 1-866-281-8830.
About MarketingResourceBlog
The Marketing Resource Blog is a service of Bagwell Marketing. For more ideas on marketing your business see the Bagwell Marketing website . Additional suggestions about pairing promotional items with promotions-specific events can be found at http://www.bagwellpromotions.com . Summer-related promotional products are featured on the website.