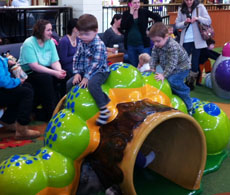 Our sales are increasing and I have to say that has to be due in part to the play area and moms being able to shop more often.
Englewood, CO (PRWEB) October 25, 2012
Simon Company's Summit Mall in Fairlawn, OH asked parents what they wanted to see in the mall to help make their shopping experience better. The resounding response was, "we want an indoor play area!" Now, since the new PLAYTIME soft play area installed, traffic and sales are up because parents say they can shop longer with their kids.
"We've had an overwhelming response," says Kate Anderson, Area Director of Marketing and Business Development, explaining when Summit Mall installed a new PLAYTIME indoor play area.
"We've gotten a lot of positive feedback and parents tell us that they can now spend more time at the mall and they really appreciate having an area for their kids to play."
Located in Fairlawn, OH and owned by Simon Property Group, Summit Mall is an upscale shopping center in the midst of affluent neighborhoods just outside Akron. Key retailers include Apple, Banana Republic, Coach, Sephora and Williams-Sonoma among many others. Many of the mall's shoppers report an average household income of over $100,000.
Prior to the new mall indoor play area, shoppers also reported that they wanted a child-friendly amenity at the shopping center.
"Prior to opening our play area, the most common thing we heard from parents was that they were requesting a children's play area," says Anderson. "I talked to a lot of moms who said they love coming to Summit Mall and they wanted to spend more time. We needed a place for kids so that families could shop more often. The play area gives kids a place to work off some of their energy. "
The mall contacted PLAYTIME, LLC, the global provider of unique, interactive play areas and playground equipment for commercial indoor, outdoor and water playgrounds. PLAYTIME designs, manufactures and installs many of Simon's play areas and brands them with the company's kids club characters, "Kidgits."
"We knew when we opened the new soft playground, we'd have so many eyes on the mall," says Anderson. "We wanted to be sure that even those people who shop less frequently were able to see that we now have a play area and would enjoy spending more time here."
In the last few years, Summit Mall has undergone an exterior renovation, welcomed 15 or more new retailers, and installed the play area. All of this work has paid off in increased retail traffic, says Anderson.
"Our retail sales are increasing and I have to say that has to be due in part to our shopping center play area and moms being able to shop more often."