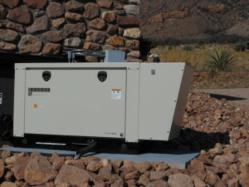 I have been really impressed with the engineering and the quality of the Cummins generator.
Houston, TX (PRWEB) October 12, 2012
A cattle rancher in a remote part of Arizona has one of the largest residential off-grid solar systems in the state. The solar power system can take care of all the appliances in the family home plus a well that provides water for the livestock, but there is an occasional need for backup power from a standby generator.
The rancher's original generator from another manufacturer began to develop problems, especially with alternator brushes and sensors. One particular difficulty with the original generator was that its alternator brushes were constantly getting dirty and having excessive wear. Brushes are problematic in the dusty environment, so we ended up going through a number of brush sets and two alternators.
The downtime was disruptive, and long-distance service calls for repairs were costly. So, an extensive list of demanding criteria for a replacement generator was developed, which included among them: power to run all household appliances, including two 2.5-ton air conditioner compressors; brush-less alternator; engine speed of 1800 RPM; liquid cooling; LP fuel; and solar application warranty.
The rancher was pleased to find a product that met all these requirements and more: a 20 kW Cummins generator. The newly released case history tells the story of the rancher's experiences with the original unit and with his Cummins replacement. To read the complete case history here.