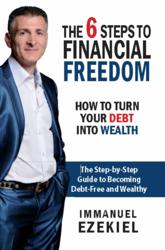 More people than ever are suffering problems such as stress, health issues and relationship breakup due to debt
London (PRWEB UK) 18 October 2012
Millions of people could get out of debt quickly and achieve financial freedom instead by taking the right action now, according to the author of a new book published today.
Immanuel Ezekiel, author of "The 6 Steps to Financial Freedom", says the current financial crisis means more people than ever are suffering problems such as stress, health issues and relationship breakup due to debt.
"Over the last 10 years, I've helped many people rebuild their finances and I'm frustrated to see so many people struggling with debt worries. Often they don't know where to go for advice or - even worse - they get bad advice that makes their situation worse.
I wrote this book because I know that, following the right steps, virtually anyone can get out of debt and start building wealth faster than they'd imagine.
The book covers a process that I have used to help thousands of people transform their finances and I felt the time was right to get this information to a wider audience."
In the book, Ezekiel identifies six key stages individuals need to move through in the process of turning debt into wealth:
1. Awareness of the problem: Before anyone can get out of debt, they have to understand why they got into debt and how the financial system is stacked against them.
2. Acceptance of need to change: They must be ready to make changes in the way they live their life and learn how to think and behave differently about money.
3. Assessment of current financial situation: Next they need to get a clear picture of their current situation so that they can work out what needs to be done.
4. Action to change situation: Then it's time to take action so that they start to turn their debt into wealth using the money they already have.
5. Acceleration of debt repayment to financial freedom: The top priority needs to be getting out of debt but a few simple changes can lead to fast results.
6. Accumulation of real wealth: When somebody has cleared their debt, they can continue following the same process to build financial freedom.
The book provides a specific strategy to help people who are currently in debt start turning their finances around right away.
It also identifies a number of ways readers can take control of their own finances and repay more debt using just their existing income.
It then outlines how readers can use their existing income to build wealth when they have cleared all their debts including their mortgage.
Anyone can follow the system and it does not require investment in any specific program.
Ezekiel says:
"Debt is a huge problem for many people today. In the UK, more than 2.5 million households are more than two months behind on loan repayments and, in the USA, more than 1.5 million people filed for bankruptcy in 2010.
These numbers represent just a small proportion of those who have real worries about paying their debts.
People often feel they are at the end of the road but the reality is that most people can turn around the situation relatively quickly if they know what action to take.
I've seen many people following this system go from being deeply in debt to having all their debts - including their mortgage - repaid using their current income in three to five years or even less."
"The 6 Steps to Financial Freedom" by Immanuel Ezekiel is available from online booksellers such as Amazon and through all good bookstores. Price £19.97
For more information, visit http://www.The6StepstoFinancialFreedom.com