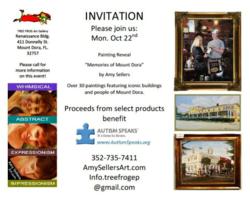 Mount Dora, FL (PRWEB) October 22, 2012
Art Reveal to benefit AUTISM SPEAKS
The chosen charity, Autism Speaks, will be the beneficiary to prToceeds collected from the Art Reveal Event,"Memories of Mount Dora, FL" on Oct. 22nd, 2012.
Private Labeled Wine Bottles for the event will also be offered by Maggies Attic Wine Den. The bottles will be limited edition private-label bottles hand-signed by the artist, Amy Sellers. Many other vendors in the small historic town will also participate.
The artist anticipated having 30 paintings depicting iconic buildings and people of Mount Dora. Today she is working on painting number 32 and has had requests to complete more for the showing. Several hundred other works will also be available. Many of the originals have already been pre-sold, but some still remain. All paintings will be offered in other forms, such as giclee' canvas prints, photo prints, greeting cards and even others as refrigerator magnets!
Place: TREE FROG Art Gallery in the Renaissance Bldg. 411 N. Donnelly Street, Mount Dora FL 32757
Time: All day event... beverages and raffle prizes begin at 5pm
Contact: Event Director - Patty Hood 352-735-7411; patty.treefrogep.com
amysellersart.com