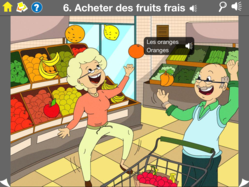 Noyo French Immersion is strategically designed to help students get maximum exposure to French. Everything is written and said in French.
Boston, MA (PRWEB) October 30, 2012
Noyo, a Boston-based language learning software company, is pleased to announce the debut of its first French language app, Noyo French, for the iPad. Noyo apps are structured vocabulary acquisition tools designed by Mike Sullivan, a popular elementary and middle school language teacher for supplemental classroom use.
"Noyo French is our exciting second step towards revolutionizing foreign language learning through tablet devices," says Ted Chan, co-founder of Noyo. "All three of our Noyo Spanish apps have received very positive reviews from hundreds of teachers, parents, and students from across the country. We think it's a great fit for the growing ecosystem that the iPad Mini will fuel"
Noyo French is the software company's first French app, and fourth overall app to date. Noyo's other titles released earlier this year include Noyo Spanish Vocab Builder, Noyo Spanish Travel, and Noyo Spanish Immersion.
The Noyo French language apps incorporate the same features that certainly set Noyo apps apart: brilliant and beautiful graphics, interactive and intuitive user interface, native speaker voiceover, reinforcing unit quizzes, and hundreds of target vocabulary words organized into thematic units.
Noyo French is now available for download on iTunes, Google Play, and the Amazon Appstore for an introductory price of $7.99.
APP FEATURES

Over 1900 words and phrases, each reinforced by supporting audio, visual representation, and written translation 
176 custom-illustrated scenes, packed with friendly characters and amusing scenarios 
Audio by a professional voice artist who is a native French speaker 
Built-in assessment questions at the end of each unit 
Check your stats--including how words learned, the time spent learning, and assessment scores--and email them to yourself or your teacher!
10 targeted units, featuring vocabulary related to: food, ordering at a restaurant, transportation, cities, vacation activities, home and family, sports, animals, school, seasons
About Noyo
Noyo is a Boston-based educational software company dedicated to providing engaging and cost effective language learning tablet apps. Noyo now offers language learning apps for Spanish, French, Portuguese, and Mandarin Chinese. All apps are created by a passionate team of educators, technologists, linguists, and designers. More information can be found at http://www.noyo.com.