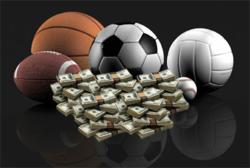 It's nice to have a lot of money, but you know, you don't want to keep it around forever. I prefer buying things. Otherwise, it's a little like saving sex for your old age. Warren Buffett
Paradise, Texas (PRWEB) October 22, 2012
SF-JO's research found that people are still investing in not only their major home but in vacation homes as well. The company found that individuals still gamble by investing in stocks and bonds and that they still spend money on things that do not last like cars, fine dining and trips. The one area of investment that SF-JO found as it relates to sports fans, is their thoughts about investing in sports jewelry.
SF-JO explains that sports fans consider sports jewelry as an investment because it can be both displayed and worn. To sports fans, sports jewelry has a dual purpose. It acts as advertisement for their favorite sports team and because of its variety in styles, it also serves as a stylish addition to casual or dressy attire. SF-JO also found that people consider sports jewelry as a collectable commodity because it stays in style as long as a sports team exists and when a team is dissolved, it becomes a collector's item. Also notable in SF-JO's findings is that many sports fans consider their sports jewelry as memorabilia, passing it down generation to generation.
At Sports Fan Jewelry Online (SF-JO), sports fans can purchase licensed sports jewelry in support of their favorite NCAA, NFL, NBA, MLB, NHL, and MLS team. Currently, fans can purchase these licensed team items from the SF-JO online catalog:
Watches, ID Holders, Purses, Necklace and Earrings, Belt Buckles, Bags and Totes, Money Clips, Wallets, Bracelets, Charms, Umbrellas Rings, Pins, Coin Products, Key Chains, Jewelry Boxes, and Golfing Supplies
SF-JO also offers sports jewelry for the military Academies and for these areas of the armed forces: Army, Air Force, Coast Guard, Marines, and Navy. Additionally, SF-JO also provides for those that want to support public servants, sports jewelry supporting law enforcement services and firemen.
SF-JO catalogs are available online at http://www.sportsfanjewelryonline.com. Fans can shop for sports jewelry 24 hours a day and discounts are provided to return customers. Interested customers can sign up for the SF-JO newsletter and can be notified when new sports jewelry products are added to inventory.