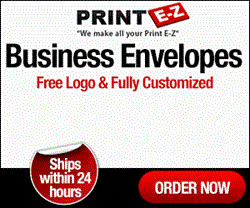 "Kraft envelopes added to the already wide range of envelopes at PrintEZ.com helps us serve customers better"
Monroe, NY (PRWEB) October 23, 2012
In order to expand their range of business envelopes, PrintEZ.com has recently added Kraft and Stationery envelopes to their existing white envelopes range. The company is in the business of providing various kinds of business forms, mailing labels, business checks, personal checks and more to small, medium and large companies. The range of envelopes offered by this online printing house became wider with the addition of Kraft envelopes and stationery envelopes.
PrintEZ.com swears by the maxim that the customer is king and everything is managed keeping in mind the need and convenience of the end customer. In keeping with the same strain, they are a company that is extremely transparent. As the CEO of PrintEZ.com, Morris Rose states, "At PrintEZ.com a customer can be sure to encounter a completely transparent policy. The rates mentioned on the site are devoid of any disguise. What is seen at PrintEZ.com is what is delivered and what a customer can expect to pay. PrintEZ does not believe in ifs and buts"
The Kraft envelopes added to the range are now available in various sizes. One can now find the standard 12 inches by 9 inches range and the 14.5 inches by 11.5 inches one too. A smaller size of 9 inches by 6 inches is also available for those who need to send smaller mails. Each of these sizes of Kraft envelopes are available with a gummed flap that can be moistened for complete and proper sealing. These envelopes have also been introduced in the 'open top' and 'open end' options too. These brown envelopes are made from sturdier paper and are extremely useful to deliver documents where one cannot risk any kind of damage.
In the stationery range PrintEZ.com has added better paper envelopes, economical envelopes, fine paper envelopes and prestige paper and recycled paper envelopes. These cover a wide range of specific needs that different kinds of customers may have. The company has ensured that they cover the requirements of different kinds of companies, different consumers and different kinds of packages.
While the environment friendly envelopes added use recycled paper, the business bond envelopes are made from high quality paper that is thick and crisp. The recycled paper has been launched in single as well as 2 color printing option. The economical range uses paper that is not as thick as the one used in the bonded business envelopes. PrintEZ.com basically has something for every kind of need that a business corporate house may have. Partnering with this firm can also bring in significant amount of convenience and ease; not to mention efficiencies and returns.
PrintEZ.com also has other range of envelopes like florist envelopes, postage envelopes, cash envelopes, tax envelopes and plastic envelopes. Each of these has been created keeping in mind a specific kind of need. While the cash envelopes are handy when one wants to keep a tally of the cash denominations that are collected from various sources, postage envelopes are extremely convenient and obviate the need for regular postage stamp trips to the post office.
Plastic envelopes, offered by PrintEZ.com, on the other hand are great for sending important documentation that needs to be protected from the vagaries of the elements.
Great deals are released by the company on a regular basis to ensure customer loyalty and to offer value to the customer at all times. New customers are offered free shipping on all envelopes and a 10% discount on the first purchase too.
Get more information about how Print EZ offers and new launches on Business Envelopes call the company at 1-888-246-0635.
To read more about White Envelopes click here http://www.printez.com/white-envelopes.html
and get regular updates of new offers and deals here.
Print EZ
4 N Main St.
Monroe, NY 10950
(845) 782-5832