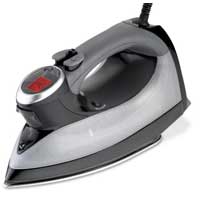 Atlanta, GA (PRWEB) October 12, 2012
Expert 10rate editors have chosen the Best Iron picks in their latest Top 10 list in the small appliance arena. Editors looked for things that made ironing much easier and more effiecient when choosing candidates for the list. Features like a sturdy base, auto-shut off, and steam were determining factors for the winners.
According to the top 10 list, two of the best irons currently on the market are the Black & Decker D2030 and the Hamilton Beach 14875. Concerning the Black & Decker iron, reviewers stated that, "A convenient, affordable iron that takes most of the guesswork out of ironing various clothing items, this Black & Decker model has a simple, easy-to-grip design. The controls under the handle are a little awkward to reach, but the screen display makes it clear what temperature and fabric settings you have chosen. The iron heats up quickly and lets you know when it's ready with an audible beep."
When reviewing the Hamilton Beach iron, editors said, "A powerful iron with 1,500 watts, this Hamilton Beach model heats up quickly and keeps you informed of all its settings with a bright, colorful display. The soleplate is sturdy and glides smoothly over clothes; we learned to carefully avoid zippers, however, because the heat can damage them. There are no water leaks or spits of steam on the clothes. While the water tank is somewhat tricky to fill, it holds a lot of water."
10rate.com conducts reviews in various product and services categories and publishes "Expert Top 10 Lists for Everything in your life." The company's web site strives to "Make it Easy" to select from the hundreds of choices there are in the product and service market place. All products and services are thoroughly researched by the companies expert editors prior to receiving a rating on a 1-10 scale. In addition to product reviews the companies editors write guidelines, buying guides and articles on various topics surrounding each product or service category covered to help educate the consumer.