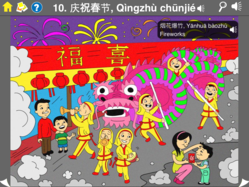 Users will fall in love with the standard Chinese voiceover and simplified character display upon a simple touch.
Boston, MA (PRWEB) October 18, 2012
Noyo is pleased to announce its first Chinese app, Noyo Chinese, joining critically acclaimed Noyo Spanish and Noyo Portuguese apps. Noyo Chinese is specifically designed to create a maximally effective and fun immersive language-learning environment.
Noyo Chinese is expected to be an instant hit among young learners who are starting to learn Mandarin Chinese, either at home or school. Mandarin Chinese is by far the most widely spoken language in the world today with over one billion speakers.
"More people are learning Chinese now than ever before," says Ted Chan, founder of Noyo. "If you own a tablet device and are hoping to learn basic Chinese, Noyo Chinese may be the ideal app for you."
The app closely follows the same format as similar Noyo apps for Spanish and Portuguese. Especially popular with visual spatial learners, Noyo Chinese features over 1900 vocabulary words organized into 187 custom-illustrated scenes and 10 thematic units that incorporate Chinese culture.
"For native English speakers, Chinese characters and pronunciation are extremely difficult to master at first," says Micaya Clymer, product manager at Noyo. "Fortunately, Noyo Chinese is built with these challenges in mind. Users will fall in love with the native Chinese voiceover and simplified character display upon a simple touch."
Noyo Chinese is the company's first East Asian language series since the company's first app launch in January 2012. Noyo plans to release language app series for French, Hebrew and English as a Second Language (ESL) in the near future.
Noyo Chinese is now available for download on iTunes, Google Play, and the Amazon Appstore at an introductory cost of $7.99. There is a 50% volume discount for educators.
APP FEATURES
Over 1900 words and phrases, each reinforced by:
-- Supporting audio by a native speaker from Shanghai
-- Visual representation
-- Chinese and pinyin spellings
-- English translations

187 custom-illustrated scenes, packed with friendly characters and amusing scenarios
Built-in assessment questions at the end of each unit
Check your stats--including words learned, the time spent learning, and assessment scores--and email them to yourself or your teacher!
*10 targeted units, featuring vocabulary related to: Food, Restaurant, Home & Family, Transportation, City, Vacation, School, Season, Sports & Animals
About Noyo
Noyo is a Boston-based educational software company dedicated to providing engaging and cost effective language learning tablet apps. Noyo now offers language learning apps for Spanish, Portuguese, and Mandarin Chinese. All apps are created by a passionate team of educators, technologists, linguists, and designers. More information can be found at http://www.noyo.com.