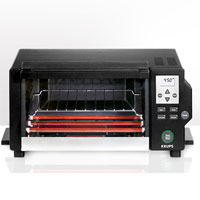 Atlanta, GA (PRWEB) October 02, 2012
Expert 10rate editors have chosen the Top Toaster Ovens in their latest Top 10 list in the small appliance arena. Toaster ovens are a little more versatile than the typical toaster. They are not limited to toast, bagels, and English muffins. Toaster ovens are large enough to heat a dish for cook a frozen dinner. Maybe even a mini pizza. Cooking consistency is a little sporadic at times for these devices, but they can a helpful addition to the kitchen. The following are other criteria used by 10rate editors to compile the Top 10 List:
1. Convection heating
2. Shut-off timers
3. Automatic slide-out racks
4. Defrosting
5. Included accessories
According to the top 10 list, two notable toaster ovens currently available on the market are a Krups toaster oven and a Cuisinart toaster oven. Concerning the Krups toaster oven, reviewers stated that, "With a clear LCD display and uncomplicated controls, the Krups FBC2 toaster oven satisfies in all areas and includes several convenient features. The convection baking cuts down on cook time, leaving food brown and crisp. Defrosting frozen items is quick and uniform. With 3 quartz heating elements situated above and below the heating racks, bread and other items get the most of powerful, all-encompassing heat."
When reviewing the Cuisinart model, editors said, "With an attractive brushed stainless steel exterior with matte black sides, this Cuisinart toaster oven stands out in the kitchen and offers exceptional toasting and broiling performance. The interior is truly capacious, large enough to easily hold pans or a 12″ pizza. The control panel is arranged along the bottom with clearly marked buttons and an LCD display."
10rate.com conducts reviews in various product and services categories and publishes "Expert Top 10 Lists for Everything in your life." The company's web site strives to "Make it Easy" to select from the hundreds of choices there are in the product and service market place. All products and services are thoroughly researched by the companies expert editors prior to receiving a rating on a 1-10 scale. In addition to product reviews the companies editors write guidelines, buying guides and articles on various topics surrounding each product or service category covered to help educate the consumer.