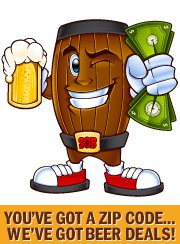 SaveOnBrew's study found that 25 percent of tailgaters planned to buy craft beer for their pre-gaming.
Houston, TX (PRWEB) October 17, 2012
What will people be drinking for the 2012 football season and why will they drink it? The makers of SaveOnBrew, the internet's only beer price search engine, sought to answer this question in a new survey of 500 beer lovers. They found that NFL fan beer drinkers are segmented into several different groups.
"Bud Light is the official NFL sponsor and it continues to be a popular choice," says SaveOnBrew's Mark Davidson. "There's something to be said for all those aggressive advertising dollars spent to knock the competition out of the park." Back in February, the SaveOnBrew blog ran a story about the "10 Top-Selling Beers in America" and Bud Light came in at #1, with 19.2 percent market share. In this survey, nearly half of all beer drinkers said they would be drinking Bud or Bud Light while tailgating.
Pabst Blue Ribbon was another beer of choice mentioned by 150 beer drinkers. Davidson explains that people love the idea that they can get a case of session beer for less than $1 a beer. PBR is practical in that it's less likely to leave drinkers with a hangover and it goes down easy. Yet, in recent years, it's become a "hipster phenomenon" and a "cool beer to drink." Like football, Pabst Blue Ribbon is still an American-owned company.
Weber Grill Company conducted a 2010 survey that found 41 percent of tailgaters were cooking up full meals for their parties, rather than the usual hamburgers and hotdogs. Along with the more adventurous appetites came more experimental taste in beer as well. SaveOnBrew's study found that 25 percent of tailgaters planned to buy craft beer for their pre-gaming. Top brands mentioned included: Sam Adams, Shiner Bock, Oskar Blues, Sierra Nevada IPA, Brooklyn and New Belgium.
"Being from Texas, I'm kind of partial to the Shiner Bock myself," Davidson says. "It's a nice amber color, has a slightly sweet flavor that goes great with all tailgating foods, and it goes down very smooth. You drink all day and still go to work in the morning. Ultimately, that's what most of our tailgate partiers were looking for in a beer."
Before loading up on game-day brew, Davidson reminds consumers to enter their zip codes at http://www.SaveOnBrew.com for a quick listing of retailers with the lowest prices and best deals on beer. The mobile version of the site also allows shoppers to get maps to the nearest beer retailers in their areas.
About SaveOnBrew.Com: Founded in 2010 to help thirsty beer drinkers across the United States find the lowest advertised prices for one of the world's most popular beverages.