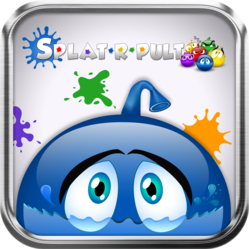 StevieSpin Digital Media Inc.'s focus is fresh and innovative one-thumb mobile experiences that are accessible to everyone
(PRWEB) October 19, 2012
SPLATRPULT is easy to learn but difficult to master. Drag a Splatty to the catapult, pull back, aim and release to launch and splatter him (or her) inside each level's targets. To win the level, color at least 90% of the target.
As the game progresses, new challenges are introduced, such as having to use certain colors in specific areas and mixing colors to achieve purple, green and orange splats. Luckily, Super Splatties provide an advantage on the more difficult levels:

Laser-Guided Splatty: shows where the splat will land before launching
Triple Splatty: breaks into 3 smaller Splatties and also has some secret, heat-seeking abilities
Mega Splatty: makes a giant-sized splat
Key features of the new SPLATRPULT app include:

Addictive and satisfying gameplay
Brilliant and beautiful graphics
9 different talking Splatty characters, each with their own unique one-liners
15 Free Levels
50+ Achievements
3 Super Splatties: Laser-Guided, Mega and Triple
Game Center support
Additional levels and items available via in-app purchase
Unlock Action Mode for a high-pressure, time-limited way to play
About StevieSpin Digital Media Inc.
StevieSpin Digital Media Inc. is a shiny new startup headed by graphics and motion veteran, Steve Lunny. The company's focus is fresh and innovative one-thumb mobile experiences that are accessible to everyone. SPLATRPULT is the company's first game, with several others in the queue waiting for their turn to be produced. SPLATRPULT has been featured on Spike TV's All Access Weekly hosted by Katie Linendoll, where game designer Steve Lunny spoke about his experience creating the game as a first-time indie developer.
For more information, join the Facebook Fan Page, follow the game on Twitter or find it on the App Store.
Contact:
Steve "StevieSpin" Lunny
StevieSpin Digital Media Inc.