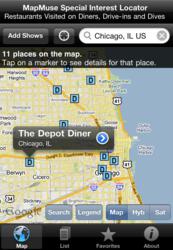 Our goal is to make it as easy as possible for fans to find and learn about the restaurants on the show.
Reston, Virginia (PRWEB) October 02, 2012
MapMuse today announced the release of a major data and feature update to its Diners, Drive-Ins and Dives Locator, an iPhone 5 compatible app that connects fans of the hit Food Network show with the restaurants host Guy Fieri visits. Each restaurant's profile page will now include a video clip, a list of the dishes Fieri tries, and expanded episode details, among other improvements.
"Diners, Drives-Ins and Dives has attracted one of the most loyal following of any show on television, and the popularity of this app can attest to that," says MapMuse owner Mike Pilon. "Now, in addition to locating the places Guy visits, users can order the same dishes he eats, and even watch him eat them if they so choose." For those unfamiliar with the program, each episode consists of Food Network personality Guy Fieri traveling the country, seeking out hole-in-the-wall restaurants with renowned chow. The concept behind the Diners, Drives-Ins and Dives Locator is to provide iPhone owners with the real-life locations of the restaurants, presumably so they can try them out for themselves.
"Our goal is to make it as easy as possible for fans to find and learn about the restaurants on the show," says Pilon. The app is built on an interactive map that's been tagged with the locations of every diner, drive-in, and dive Guy has visited. Users can scroll the map to look for places to visit nearby by or search for ones across the country. Tapping a restaurant's icon brings up its profile page, which contains contact information, episode details, web links, a list of featured dishes, and user-submitted photos and reviews, as well as prompts to launch helpful mobile features such as one-touch dialing and instant driving directions. Users can save restaurants they've visited to their Visited List, or wish to visit to their Bucket List for easy access later.
MapMuse has devoted significant to resources to keeping its data current accurate, even re-watching entire episodes when necessary. "Fans can be assured that they're getting any and all available information for each restaurant, and that it's accurate," says Pilon. On the off-chance that, say, a restaurant changes its web address or phone address, users have the ability to suggest data changes directly through their iPhone or Droid. Unsurprisingly, restaurants featured on the Diners, Drive-Ins, and Dives Locator have played a large role in keeping their data accurate, which comes as no surprise seeing as it can only benefit business.
The Diners, Drive-Ins, and Dives Locator is available for download on the iTunes App Store. Fans of the show who don't have an iPhone can view MapMuse's free web version of the app, which has identical data but reduced features.
MapMuse, an internet and app development company based in Reston, Virginia, has extensive experience developing apps based on food TV shows. Its app portfolio contains titles such as the "Man v. Food Locator," the "Best Thing I Ever Ate Locator," and "Cupcake Wars Companion." "MapMuse has earned a solid reputation of churning out user-friendly TV food apps, and keeping its databases current in the process," says Pilon. "As long as the market's out there, we'll continue to do so." The company also offers free web-based alternatives to its apps, which can be accessed on its homepage.
Disclaimer: Diners, Drive-Ins and Dives Locator is neither affiliated with nor endorsed by Cupcake Wars or the Food Network.