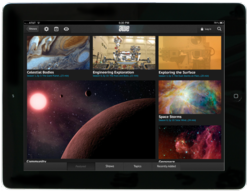 We took our best thinking about primary and secondary screen experiences and built a framework containing all the major features and building blocks necessary to make the most impressive broadcast apps possible – this is AWE.
Dallas, TX (PRWEB) October 09, 2012
Due to increasing demand for video watch apps that can be deployed rapidly, Bottle Rocket Apps has built a comprehensive native framework for iOS and Android devices, called AWE. The Anywhere Watch Experience, AWE, enables brands to launch an app for their video library quickly and stay on the cutting-edge of mobile video innovation and trends.
Traditionally, a watch app can take six months to build, but with AWE it is possible to do so in as little as one month. AWE is the foundation for a successful watch app, with the necessary technology, authentication and social integration already built in and ready for custom content and branding.
"With more than four years of award-winning work for major broadcast and media brands such as A&E, Showtime, Food Network, Bravo, Turner, PBS and others, we realized we had more experience with video on mobile than any other company in this space," said Calvin Carter, President and Founder of Bottle Rocket Apps. "We took our best thinking about primary and secondary screen experiences and built a framework containing all the major features and building blocks necessary to make the most impressive broadcast apps possible – this is AWE."
The main features of AWE are:

Built to work consistently with Apple and Android phones and tablets
Supports TV Everywhere, the industry standard for cable provider authentication
Customizable user interface and feature set to match brand requirements
Supports existing social media strategies and sharing capabilities
Compatible with the latest second screen technologies
Adjustable to scale with business needs and trends
To learn more about AWE, visit http://www.bottlerocketapps.com/awe