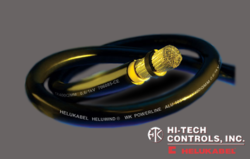 (PRWEB) October 29, 2012
Manufacturing components for the wind turbine industry have certainly come along way. With cost and efficiency driving concerns to the customer, manufactures have had to raise the bar to stay competitive.
Hi Tech Controls is carying a new Flexible Aluminum POWERLINE ALU. This diesel locomotive (DLO) power cable is made of finely – stranded aluminum, making it much more flexible and easier to work with than its competition. Since Aluminums tendency to break is much lower, the cables reliability increased and the chance of power disruptions decrease due to damage caused by bending.
The instillation advantage of the flexible Powerline ALU is that one length of cable can run from behind the drip loop in the down tower area directly to the inverter in the power base, reducing the splice count, by sometimes as many as 4 splices. Reducing the splice count to one improves the safety and protection of the turbine's power cable since the most technical failures are caused by bad splices.
"Since the POWERLINE ALU is made of aluminum its weight is reduced by nearly 50 percent, it is quicker and easier to install, as well as being less expensive than comparable copper power cables," says Uwe Schenk, Global Segment Manager – Wind at HELUKABEL®. "Given the uncertainty of the PTCs and the need for reducing turbine costs (manufacturing, installation and maintenance), the POWERLINE ALU is our attempt to further the development of the industry in the United States and Canada by making wind turbines more affordable."
Not only is this cable highly flexible, but extremely durable with a specially formulated heat resistant insulation and coating on the outer jacket. Powerline ALU is resistant to UV- Light, oil, fire and is also halogen-free and recyclable. The cable comes in two standard types, 0.6/1 KV and 1.8/3 KV. Cable can be ordered in bulk or pre-assembled.
Please contact Hi Tech Controls for more information. http://www.hitechcontrols.com