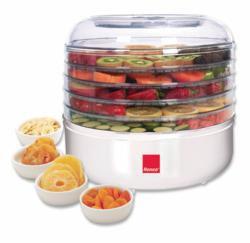 Austin, TX (PRWEB) October 18, 2012
Ronco, the trusted kitchen product purveyor, has announced its easy-to-use, time and money-saving 5-Tray Food Dehydrator will be available nationally at all Target locations and Target.com starting this October.
Simple to use, the Ronco 5-Tray Food Dehydrator enables consumers to dehydrate their own food hassle-free at home and create long-lasting, nutritious snacks. Just slice, dry and store! The prep work is minimal and the "cooking" is hands free. Prized produce, vegetables and meat do not go to waste thanks to the dehydrating process. Dehydrated fruits and veggies have intense flavors and add variety to your healthy snacking options. Dried banana chips, apple slices, homemade fruit roll-ups, granola bars, and beef jerky are ideal for on-the-go snacking that is good for you.
Americans are more health and cost conscious when it comes to food than ever before. Dehydrating has become increasingly popular in recent months with the rising cost of produce and meat. The Ronco 5-Tray Dehydrator allows individuals to make their own delicious, healthy dried foods at a fraction of the cost of packaged dried foods at the grocery store. Perhaps the best incentive to dehydrating at home is the peace of mind knowing the ingredients are 100% pure and natural with no additives or preservatives. Plus, dehydrated foods do not lose their nutritional value over time and they are ideal for storing or enjoying on the spot.
"There is something almost sublime about the way in which food can bring people together and there's nothing quite like partaking of the fruits of one's own labor" said Eydie Webster, vice president of marketing for CD3 Holdings, Inc., which acquired Ronco in 2011.
ABOUT RONCO
With all the demands and distractions today that can keep families running in different directions, the need for healthy, quick, budget-friendly meals and snacks is more important than ever. No one knows that better than Ronco, a company with more than forty years of experience creating kitchen devices like pasta makers, countertop rotisserie ovens, food dehydrators, chopping gadgets and more that cut down on time spent preparing food so families can spend time with each other.
Ronco was founded by Ron Popeil in 1964 and commercials for the company's products soon became pervasive and memorable, in part thanks to Popeil's personal sales pitches. The names Ronco and Popeil and the suffix "-O-Matic" (used in many early product names) became icons of American popular culture and were often referred to by comedians introducing fictional gadgets.
In 2011, Ronco was acquired by CD3 Holdings, Inc., a leading consumer products innovator based in Austin, Texas. Since the acquisition the company has been committed to bringing Ronco back to what it once was. Founders Ron Hunt and Gene Whitehead, inventors and engineers with vast experience in product design and manufacturing, are committed to seeing that Popeil's goal lives on of making family mealtime a priority.
To learn more about Ronco's complete pioneering product line visit http://www.ronco.com
ABOUT CD3 HOLDINGS, INC.:
CD3 Holdings, Inc. is a leading consumer products innovator whose products are sold globally through a variety of national retailers, online retailers, independent gift stores, and QVC. The strength of this fast-paced, entrepreneurial company is its ability to design and manufacture innovative, well-engineered products at an affordable price to consumers. The company was founded in 1991 by Ron Hunt and Gene Whitehead, inventors and engineers with extensive experience and insightful skills in product design and manufacturing. To date, the engineering and design staff is credited with over 120 U.S. and foreign patents.
For more information on Ronco or CD3 Holdings, Inc., please contact Senior Publicists Lacy Gambee, lacy(at)orcapr(dot)com, or Krista Loew, krista(at)orcapr(dot)com, with Orca Communications Unlimited LLC, a full service public relations firm based in Phoenix, Arizona that specializes in consumer products.