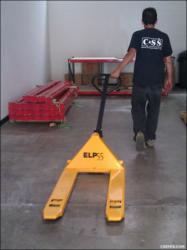 Our new network makes it easier and quicker for customers to obtain the jacks they need, when they need them
San Diego, CA (PRWEB) October 09, 2012
Aside from its center in the Mission Valley section of the City of San Diego, Conveyor & Storage Solutions Inc., has now opened another location in the north San Diego County suburb of San Marcos and still others in Salt Lake City, Utah; Kansas City, Missouri; Elk Grove Village, Illinois; and Agawam, Massachusetts.
"Our new network makes it easier and quicker for customers to obtain the jacks they need, when they need them," said Woody Thorp, chief executive officer of C&SS. "And we are eliminating the burden to our customers of paying to recycle hazardous materials, not to mention finding processors who accept the used jacks at all." This solves a common customer problem of finding recycling centers that accept both steel jacks and the oil pumps that drive them. The pumps are considered hazardous materials that require special handling.
C&SS offers at least six models of pallet jacks, ranging in price from abut $325 to $1,920. The standard model, the ELP55, features advanced ergonomics that make the operator's job more comfortable and efficient. At 170 pounds, it lifts some 5,500 pounds, or about 33 times its weight, to heights of seven-and-a-half inches. With a full 180-degree turning radius, the jack is easily navigable even in tight corners. The company also offers the corrosion-resistant ECO I-55, a stainless steel jack designed for chemical and wet environments that withstands temperatures as frigid as minus 10 degrees Fahrenheit.
About C&SS: Celebrating 20 years of smart, cost‐efficient materials handling, Conveyor & Storage Solutions, "The Density People," designs and builds multi‐level catwalks and warehouse storage systems. C&SS works to improve logistics and inventory tracking, secures building permits, and distributes and integrates industrial equipment that includes storage and pallet racks, industrial shelving, mezzanines and conveyors. C&SS is guided by the principle that the safety of its customers' employees comes first.