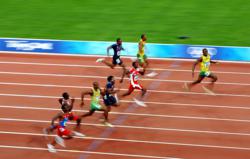 "Queries on our treadmills have come flooding in from not just the States but Europe and even as far afield as the Middle East and Asia. I've never seen a surge on the site like this before."
(PRWEB) October 08, 2012
"Olympics 2012 super hero Usain Bolt has sparked a rush on fitness equipment as thousands of American adolescents and teenagers fantasise about wowing athletics audiences with their own lightening runs." says Sean Byrne, MD of ItsAboutTreadmills.com
Sean has seen a huge surge in hits to the website ItsAboutTreadmills.com, ever since Usain Bolt began to break records at the London global games.
The businessman and fitness fan, who's been running the site for the past three years, says the amount of queries prompted by the Olympics has rocketed to new heights.
"The Olympics have obviously struck a chord," said Sean, MD of ItsAboutTreadmills.com. "And you can see why. Usain and other sprinters in the competition are the ones who were grabbing the limelight.
"Queries on our treadmills have come flooding in from not just the States but Europe and even as far afield as the Middle East and Asia. I've never seen a surge on the site like this before."
Sean's site boasts a wide range of treadmills from basic models to his best-selling and top-ranking Sole F80. This machine's 3.0 horsepower motor can deliver speeds of up to eleven miles an hour.
Part of its popularity is down to the fact that the Sole F80 treadmill is kinder to joints. That's because the machine, which has a 15 per cent incline, can decrease impact of up to 40 per cent for runners when compared to running on asphalt - thanks to its state-of-the-art cushion flex whisper deck.
Other features which guarantee its league-topping status include arm rest cooling fans, a large 7.5 inch LCD display screen and speakers for mp3 player use. Preset workout program's guide the user into compiling their own fitness regime without risking burnout.
Reviews on featured equipment at the treadmill site are written by qualified fitness trainers in America.
"Of course we welcome reviews from anyone who tries out the treadmills," said Sean. "Because let's face it, not everyone who uses a treadmill is a qualified personal trainer or fitness guru, but I think it's important to have that assurance from the experts themselves.
"It gives a bit of expert guidance to those of us who are just ordinary folk wanting to consistently improve our cardio fitness."
Visitors to ItsAboutTreadmills.com can see treadmill comparison guides to allow them to find the most suitable fit.
Another of Sean's top sellers is the Sole F63 treadmill. Offering a gentler workout than the F80, this powerful machine has the same impressive features built into a 2.6 horsepower model and speeds of up to 10 mph.
Its running deck is particularly accommodating for taller runners and, because it has a smaller running deck of 20 x 55 inches, can be stored easily. Running messages on a screen guide the novice runner through the set up process and its quiet motor allows the user to watch TV while working out.
For top treadmills tips and succinct expert reviews go to a winning website at http://www.ItsAboutTreadmills.com.