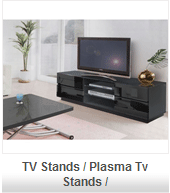 (PRWEB UK) 7 October 2012
FurnitureInFashion launches Modular TV stands for small city apartments. These TV stands are not only stylish and high end but also offer enormous functionality in any room. People with small apartments usually find it difficult to accommodate their choice of furniture in a limited available space. To provide perfect furnishing for small apartment, FurnitureInFashion has launched compact yet spacious TV stands that offer much more than a place to place a TV. The modular TV stands include Focus high gloss black and walnut entertainment stand and Koln walnut and black plasma entertainment unit. The modular tv stands have added a further depth to the catalogue of FurnitureInFashion and is most probably to become a big success among the small city apartment owners. The owner and Managing Director of FurnitureInFashion Asad Shamim said, "FurnitureInFashion is now one of the leading suppliers of TV stands in the UK.
Due to increase in demand of our TV stands, we are continuously updating our catalogue for our customers. The addition of modular TV stands has further enhanced our catalogue as people with small apartments can benefit from these multifunctional units and can relax in their living rooms even within a limited space. We expect to receive a great response to these TV stands."
One of finest and modern modular TV stand is Focus high gloss black and walnut entertainment stand. It is a stylish Plasma/LCD TV wall unit with gloss black fronts. The combination of walnut carcass with black gloss looks great. There is a large section in the center to display a TV with two open compartments for audiovisual equipments. There are 2 pull down compartments for ample storage space. There is a 1 door compartment on the side for lots of storage space. All the drawers and compartments are equipped with silver feet and handles of exciting new design. The entire unit has melamine surface which provides protection against heat and scratches. Mr. Shamim said, "Any television placed on the Focus entertainment unit will make for a style that is sure to impress. It is a stunning piece of entertainment furniture perfect for your living room. You can own this beautiful unit at extremely affordable price."
Koln walnut and black Plasma entertainment unit is an outstanding TV stand with trendy walnut wooden finish and high catching high gloss black panel door with sliding feature. The classy wooden walnut finish gives a traditional style appearance. It has a sturdy rectangular top which is ideal for TVs, plasma, LCD and Hi-Fi units, large and heavy TVs. This entertainment unit has 2 open compartments for placing all entertainment stuff. It has an attractive black gloss panel door that easily sliders across and offers concealed storage space.
Mr. Shamim said, "The black penal door with sliding feature provides sufficient storage space for keeping bits and pieces. The presence of this furniture adds more value to your room. This truly modern and unique stand combines practical storage and contemporary designs. It can bring a touch of class to your living area with a beautiful style and functional appearance."
He also added, "This unit has been designed very elegantly to increase the glory of your home. We have used finest quality materials and construction methods in manufacturing these TV stands for your peace of mind. The modular tv stands are available at extremely affordable prices."
About FurnitureInFashion
FurnitureInFashion is a UK based online retail business. It supplies furniture items from its German based warehouse and has a showroom in Bolton, UK. The company provides everything from umbrella stand wall art and room dividers to bedroom furniture, bar stools and computer tables. FurnitureInFashion offers excellent free delivery within UK and has a fantastic customer service as well. For further information and details about the sale, visit http://www.furnitureinfashion.net