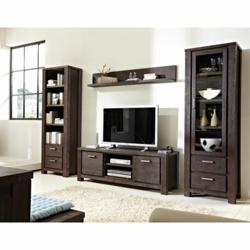 FurnitureInFashion Expects High Sales Ahead of The Festive Christmas Period with its Launch of new contemporary Nevada Baltimore Walnut and Torino Acacia ranges
(PRWEB UK) 8 October 2012
FurnitureInFashion has launched two beautiful contemporary living room ranges and is expecting high sales ahead of the festive Christmas period. The new contemporary ranges launched by FurnitureInFashion include Nevada Baltimore Walnut and Torino Acacia ranges for living room. These contemporary ranges have been designed to provide warm and comforting ambiance in a living room and the owner of FurnitureInFashion predicts to make generous profits by the sale of these ranges.
The owner and Managing Director of FurnitureInFashion Asad Shamim said, "Christmas is almost just around the corner and we expect to make the best of it by offering our best living room ranges. We have launched two new contemporary ranges for our customers at very reasonable prices. With our warm and cozy designs in Nevada and Torino ranges, customers will be able to cherish the Christmas festivities in a more pleasant way. Nevada and Torino will allow people to make memories at this Christmas."
The contemporary Nevada gloss Batlimore Walnut and white range of living room furniture is part of a complete solution for modern home requirements. It is an absolutely fantastic fusion of Italian design concepts developed into customized furniture items with the help of durable German manufacturing processes. The contemporary Nevada Baltimore walnut and white range includes 3 door entertainment cabinet, plasma TV stand, entertainment stand, 2 door tall entertainment cabinet, small entertainment cabinet, wall mounted display/CD shelf and 2 door sideboard. The 3 door entertainment cabinet in Nevada range has a white, walnut and gloss finish with 2 doors at the front for ultimate storage, the cabinet has trendy handles for durability along with glass door. Every shelf of the cabinet has LED lights which make the overall cabinet a luxurious and modern addition to a living room.
Nevada Baltimore walnut and white gloss range offers a plasma TV stand with 2 drawers for ultimate storage. The high gloss finish gives a very ravishing look to this TV stand. This range also offers a separate entertainment stand in walnut and white finish with 1 deep drawer for all storage needs. Nevada range tall and small 2 door entertainment cabinets with ultimate storage capacity. Nevada range also offers wall mounted display/CD shelf which can also be used as a book shelf. The two door sideboard in walnut and white offers 3 drawers for ultimate storage.
Mr. Shamim said, "Contemporary Nevada range is exactly what a modern living room needs. It not only adds immense style and elegance but also offers ample storage space in a living room. Nevada range is ideal for Christmas as well because it will add warmth with its walnut finish. With this range, a family will be able to enjoy and celebrate the festivity of Christmas with style and elegance."
Torino Acacia living room range is a valuable and complex processed range which gives living room a unique character. The high quality, brushed finish surface, touchwood, amazing design features and he warm gray brown color would make this fully assembled range a highlight in any home. the Torino Acacia range offers display cabinet with 3 shelves and 2 drawers, Plasma/LCD TV stand with 2 open compartments, display cabinet with front door and wall display or bookshelf. All these items are in semi solid gray brown finish with heal of storage space for display requirements.
Mr. Shamim said that these ranges are available at extremely affordable prices and can be ordered before Christmas to add a touch of elegance and warmth.
About FurnitureInFashion
FurnitureInFashion is a UK based online retail business. It supplies furniture items from its German based warehouse and has a showroom in Bolton, UK. The company provides everything from umbrella stand wall art and room dividers to bedroom furniture, bar stools and computer tables. FurnitureInFashion offers excellent free delivery within UK and has a fantastic customer service as well. For further information and details about the sale, visit http://www.furnitureinfashion.net