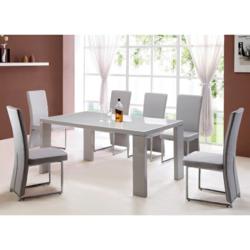 (PRWEB UK) 10 October 2012
FurnitureInFashion is enjoying an increase of 30% in its overall sales with the significant contribution from its dining room tables and chairs ranges. FurnitureInFashion is currently the leading supplier of dining table and chairs with the largest ranges in glass and wood dining table and chairs in the UK. However the major factor that contributed in the surge of dining table and chairs sales is the exquisite range of high gloss tables and chairs by FurnitureInFashion. As compared to previous year, FurnitureInFashion witnessed a 30% increase in sales due to the launch of its high gloss range. The owner and Managing Director of FurnitureInFashion Asad Shamim said, "FurnitureInFashion believes in bringing innovation in its existing furniture catalogue.
This has allowed the company to launch innovative and exquisite ranges of dining tables and chairs. With the launch of glass, wooden and high gloss dining table ranges, FurnitureInFashion has witnessed an incredible increase in its sales. Our dining table and chairs ranges have allowed us to enjoy 30% more sales compared to previous year. We hope to continue this trend in the future."
FurnitureInFashion offers an extensive range of wooden, glass, high gloss and stone dining table sets and exclusive chair ranges. The dining room sets range offers 4 seater glass dining table sets, 4 seater wooden table set, 6 seater glass table set, 6 seater wooden table set, 8 seater glass dining table sets, 8 seater wooden dining table sets, high gloss dining tables and stone dining tables. These dining table sets are available in different styles and sizes and almost every dining room can have a perfect addition from these ranges.
The dining table sets include the strong and sturdy chairs along with metal or chrome finish to provide good support. Customers can however order separate chairs of their choice as well as FurnitureInFashion also offer a separate range of chairs as well. These chairs are available in different materials and colors. The dining chairs are available in leather and other fabrics as well in different bold colors. The colors include white, black, green, orange, red, pink and several other colors. Mr. Shamim said, "If you wish to buy a chair with fabric different than leather, then FurnitureInFashion is the right place as we offer various patterns, designs and colors in fabric chairs. These chairs can add elegance and style in your dining room. Our purpose to provide separate chairs range is to provide ample choices to our customers for maximum customization. Our customers can now fulfill their imagination by combining table and chairs with their own vision and aesthetics."
The most exquisite dining table and chair range by FurnitureInFashion is definitely High gloss range which offers the most luxurious and spectacular addition for any dining room. The dining tables in the high gloss range are very modish with a tremendous look and striking finish. The chairs with high gloss tables are made of faux leather with chrome finish and classic stainless steel base. Mr. Shamim said, "High gloss designs do have very slander structures but they provide and ensure very stable support that will enhance the appearance of your dining room. The high gloss range has been designed to add lasting beauty in your home. We have used the finest quality material to provide life and strength at affordable prices."
About FurnitureInFashion
FurnitureInFashion is a UK based online retail business. It supplies furniture items from its German based warehouse and has a showroom in Bolton, UK. The company provides everything from umbrella stand wall art and room dividers to bedroom, bar stools and computer tables. FurnitureInFashion offers excellent free delivery within UK and has a fantastic customer service as well. For further information and details about the sale, visit http://www.furnitureinfashion.net