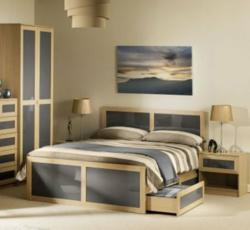 FurnitureInFashion launches the Strada bedroom range to increase its selective but stylish collection of bedroom furniture.
(PRWEB UK) 11 October 2012
FurnitureInFashion launches the Strada bedroom range to increase its selective but stylish collection of bedroom furniture. The Strada bedroom range is available in beautiful wooden finish and offers all essential items that are requited in a modern bedroom. This range will add further depth into the selective and stylish bedroom furniture catalogue of FurnitureInFashion. The owner and Managing Director of FurnitureInFashion Mr. Asad Shamim said, "FurnitureInFashion is continuously updating its furniture catalogue. Being the leading supplier of furniture in the UK, FurnitureInFashion is providing maximum options to choose from for its customers. Strada is a wooden range with beautiful linear designs and luxurious wooden finish. We are hoping to receive great response to this range due to its exquisite style and affordability."
The Strada bedroom range includes Strada bedside drawers, door wardrobe, drawer chest, bed and dressing table. Strada bedroom range is available in different designs with ample storage space to accommodate every item of a bedroom. The Strade bed is a splendid, versatile, durable and comfortable addition in a bedroom for lifelong use. It can become an impeccable addition to any home that needs an affordable and spare bed. Strada bed is a gorgeous bed with rich grey gloss finish with a sprung slatted base. The bed offers storage drawers for storing bedroom essential likes cushions, bed sheets, covers, blankets and much more. Strada bed is available in small, medium and large sizes. Mr. Shamim said, "Strade bed can be a practical choice if you have limited space. Its slander structure will adjust in any given space and you will not have to worry about bulky furnishing. It can add a lot of panache to your bedroom and surely enhance the overall interior."
Wardrobes are excellent way to complement any bedroom. The outstanding Strada wardrobe range has outstanding designs and classy look. Strada wardrobe is available in 2 and 3 door patterns with an outstanding design and offers elegant combination of wood and grey gloss board insets. The wardrobe has full hanging shelf for clothing and other necessities. It is a very modish and contemporary piece of bedroom with a sturdy base support. Mr. Asad said, "If you wish to get a large wardrobe on a budget and you need it for a few years rather than a whole decade, then this outstanding Strade 2/3 door wardrobe will be adequate."
Strada bedroom range offers classically designed bedside drawer which can add charm and personality to the bedroom décor. It is a well made furniture piece with sturdy rectangular top and is ideal for placing clock, lamp or vase. The drawers consist of grey gloss finish. In some of these bedsides, there is a compartment along with drawer as well to keep needful things close at your hand.
Strada offers 4 drawer chests as well which is not only ideal for storage but very functional as well. 4 wide drawers with distinctive grey gloss board inset which is ideal for storing all essential things. It creates a nice ambiance in a bedroom area due to its striking combination of gloss and wood finish. One of the most essential offerings of Strada range is a dressing table in a classy wooden finish with a sturdy rectangular surface, strong base support and a space for a dressing chair. It is not an ideal piece for a bedroom but for separate dressing room and large bathroom as well.
Mr. Asad said, "Strada bedroom range can provide convenient, incomparable and remarkable atmosphere to your bedroom area. This range is an excellent solution for storing your entire expensive and useful things close at your hand. You can easily keep your bedroom organized with this range."
About FurnitureInFashion
FurnitureInFashion is a UK based online retail business. It supplies furniture items from its German based warehouse and has a showroom in Bolton, UK. The company provides everything from umbrella stand wall art and room dividers to bedroom, bar stools and computer tables. FurnitureInFashion offers excellent free delivery within UK and has a fantastic customer service as well. For further information and details about the sale, visit http://www.furnitureinfashion.net