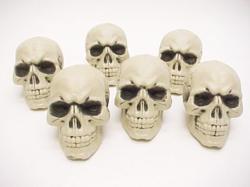 Get creative and come in to Angray Fantastico to create your own spooky world.
San Francisco, CA (PRWEB) October 01, 2012
Fantastico, a leading residential and commercial décor wholesaler in San Francisco, recently announced a new inventory of Halloween decorations. The new inventory boasts a wide selection of Halloween decor, which is ideal for haunted houses, residential homes or restaurants that want to create a spooky dining atmosphere.
"Customers are able to shop online for costumes and decorations, but most of our selections are in-store," said Mike Ferro, owner of Fantastico. "Get creative and come in to Fantastico to create your own spooky world!"
From pumpkin and skull LED lights to giant spider webs, witches hats, skeletons, paper goods and hundreds of other products, Fantastico stocks a wide variety of decorations to meet any Halloween decorating need. They also have a large selection of adult and children's costumes, six-foot tall witches, 36" spiders and more.
Many shoppers and interior decorators also go to Fantastico to buy their El-Wire Light Kits for even more creative decorating. These flexible electroluminescent wires are bendable and cool to the touch. They come in a wide variety of colors and can be used to decorate arches, poles, floral displays, costumes and create special effects.
Fantastico also has an online store that represents a small fraction of what is available at their San Francisco location. The San Francisco store is open from Monday through Friday from 7:00 a.m. until 5:30 p.m. and Saturdays from 8:00 a.m. until 4:00 p.m. The store is located at 559 6th Street in San Francisco. For further information about Fantastico's new Halloween decorations and all Fantastico products and services, visit their website at http://www.fantasticosf.com.
About the company:
With over 21,000 sq. ft. of retail space, Fantastico is sure to have exactly what holiday decorators are looking for. Their inventory includes a wide range of products including seasonal party supplies, commercial and retail Christmas decorations, artificial silk flowers and trees, and glass vases. With a a staff that is both knowledgeable and friendly, they are always ready to help customers find exactly what they're looking for. For more information, please visit their website at http://www.partysuppliessanfrancisco.com