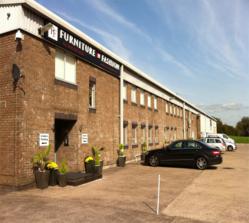 FurnitureInFashion announces its plan to open Furniture Stores across Europe, and make a significant mark with its Modern Home furniture Ranges
(PRWEB UK) 12 October 2012
FurnitureInFashion is expanding its business operations rapidly across the world and has revealed the plan to open its furniture stores across Europe as well to make a significant mark with its modern home furniture ranges. FurnitureInFashion is one of the leading online retail furniture stores in the UK with an enormous catalogue of furniture selling over 7000 different products. FurnitureInFashion suppliers furniture for bedroom, dining room, living room, office, kitchen, bathroom and bars along with lighting fixtures. The owner and Managing Director of FurnitureInFashion Asad Shamim said, "We are extremely glad to be able to expand our business operations in Europe as well. The demand of FurnitureInFashion's furniture has surged over the years not only in the UK but across the globe as well. To provide physical shopping experience to our customers in Europe, we are going to launch our flagship stores across Europe."
FurnitureInFashion has already revealed its plans to launch new showrooms within the major cities of the UK. The major cities will include Chelsea, Birmingham, Leeds, Liverpool, Sheffield, Bristol and Leicester. This expansion plan was finalized after an increase in demand of physical shopping experience. Although FurnitureInFashion is maintaining full catalogue of furniture online but the company itself believes in providing touch and feel in the shopping experience. For this reason, the showrooms in these cities will offer colorful and extravagant shopping experience to the customers.
Along with the local expansion, FurnitureInFashion is also planning to launch its flagship store in the Middle East. FurnitureInFashion is already looking for business opportunity and location in Dubai. The Middle East expansion plan involves countries like Kuwait, Qatar and Saudi Arabia. Mr. Shamim shared a reason for this expansion, "FurnitureInFashion has been able to secure many deals with Iraq. We have been supplying them with office furniture and even furniture for hotels and restaurants. This has allowed us to gauge our potential success in Middle East as well. To avail this potential success, we are going to launch our stores in Middle East. This will create brand awareness and help us target the unknown potential markets for FurnitureInFashion."
Seeing the success of FurnitureInFashion around the world, the company believes that its right time to enter the European markets as well to make a significant mark with its modern home furnishing.
Recession has struck every continent which provides an opportunity to FurnitureInFashion to offer its quality products at cheapest possible prices. Mr Shamim said that FurnitureInFashion is known for its affordability which will give it an edge in Europe as the prices these days are sky high. He said, "FurnitureInFashion has been able to control its manufacturing cost by using reliable German manufacturing processes. This has allowed us to structure our prices without comprising on profits and customers' expectations. We hope to maintain the same price structure and penetrate more markets in the future."
Mr. Asad said that the next 12 months are very crucial in terms of business operation expansion. He shared the idea of stores in Middle East and Europe, "We are going to launch furniture stores by targeting the aesthetics of homeowners. We are going to give imaginative and rich shopping experience by decorating living room, bedroom, dining room and other sections of our stores with our furniture collection. This will help our customers to imagine what their homes will actually look with our furniture collections."
About FurnitureInFashion
FurnitureInFashion is a UK based online retail business. It supplies furniture items from its German based warehouse and has a showroom in Bolton, UK. The company provides everything from umbrella stand wall art and room dividers to bedroom, bar stools and computer tables. FurnitureInFashion offers excellent free delivery within UK and has a fantastic customer service as well. For further information and details about the sale, visit http://www.furnitureinfashion.net