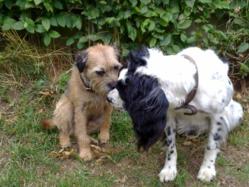 It can often be complicated and time consuming to obtain quotations for multiple pets.
(PRWEB UK) 16 October 2012
Animal Friends Insurance is pleased to announce the addition of a multi pet comparison search service with Confused.com. Pet insurance provides valuable peace of mind against unexpected vets bills, expensive treatments and even help with the cost of searching for a missing pet. There are a large amount of households with more than one pet. In fact 33% of Animal Friends Insurance policy holders have a multi pet policy, with an average of 2.46 pets per household.
Animal Friends Insurance understands customers often have more than one pet and they may wish to insure all their animals with the same provider. This is why confused.com has developed an easy multi pet comparison service for customers to find the best deals. Animal Friends Insurance offers a 10% discount for all prime policies or above when two or more pets are insured.
Natalie Sword General Manager of Animal Friends Insurance said "It can often be complicated and time consuming to obtain quotations for multiple pets. We recognise this and have worked to make the process as easy as possible for the customer. The multi pet discount is also offered each year for as long as the policy holder has more than one pet insured with Animal Friends."
Notes to editors
About Animal Friends Insurance
Animal Friends Insurance is a leading UK specialist pet insurance provider giving cover for dogs, cats and horses. Founded in 1999 Animal Friends has seen exceptional growth in recent years Pet Insurer. Datamonitor in 2011 placed Animal Friends as one of the UK's top 10 pet insurers.
Since launching, Animal Friends has stayed true to their aims by providing pet insurance to raise awareness and much needed funds to support animal welfare all over the world. Animal Friends is the trading name of Animal Friends Insurance Services Limited, company number 3630812, registered office Animal Friends House, Sunrise Way, Solstice Park,Wiltshire, SP4 7QA. Animal Friends is regulated by the Financial Services Authority, FSA Registration Number: 307858
About Confused.com:
Confused.com is one of the UK's biggest and most popular price comparison services. Launched in 2002, it generates over one million quotes per month. It has expanded its range of comparison products over the last couple of years to include home insurance, travel insurance, pet insurance, van insurance, motorbike insurance, breakdown cover and energy, as well as financial services products including credit cards, loans, mortgages and life insurance.