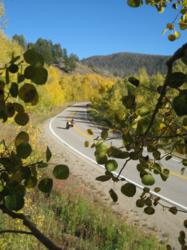 We wanted a quick and accurate look at where we could find the best roads around us.
Eagle, CO (PRWEB) October 11, 2012
America's back roads make an excellent destination for a fall road trip. Since not all roads were created equally from a motorcyclist's perspective, designing a trip around the most exciting stretches can go a long way toward a memorable ride. "That's the reason we started Butler Maps. We wanted a quick and accurate look at where we could find the best roads around us," says Justin Bradshaw, co-founder of Butler Maps. The following 10 roads have been hand-plucked from the minds at Butler Maps for their incredible views, drama and pure riding excitement.
1. Independence Pass, Aspen, Colorado:
This ride is Quintessential Colorado. It's also the second highest continuously paved road in the state at over 12,500 feet. Central Colorado. CO-82 from Aspen to Balltown.
2. Alpine Loop, Provo, Utah:
Close to the city yet far from the urban buildup, Alpine Loop is only one lane wide in spots and showcases views that seem to never end. Take advantage of this ride soon; it usually closes in late October. UT-92. Cedar Hills to Mt. Timpanogos.
3. Italian Bar Road, Pine Ridge, California:
No shoulder, no stripes, no problem. Toss in epic views of the San Joaquin River along with a historic bridge crossing and you get one California's most unique riding experience. Pine Ridge to North Fork.
4: Talimena Scenic Drive, Talihina Oklahoma:
What's not to like about fifty-four miles of sweepers on top of a stunning ridgeline. Make sure to stop at one of the overlooks or grab a bite at Queen Wilhelmina State Park Lodge. OK-1 from Mena to Talimena State Park.
5: State Highway H, Hermann Missouri:
Highway H is tucked in the hills above the Missouri River Valley not far from St. Louis. There are dozens of other notable roads nearby as well. Make an effort to stop in the quaint town Hermann which is surrounded by wineries and unique German architecture. South out of Hermann.
6: Galena Pass (Sawtooth Scenic Byway) Idaho Hwy 75:
The entire Sawtooth Scenic byway stretches 116 miles. The best of it runs over Galena Summit where glimpses of the Sawtooth Mountains combine with the kind twisties that riders dream about. Not to mention you can't go wrong with visiting nearby Sun Valley when the leaves are changing. Central Idaho.
7: Harpers Corner Rd, Dinosaur National Monument, Colorado
This often overlooked ride ends within Dinosaur National Monument. The 360° vistas of the Green River and sandstone canyons below are breathtaking. Northwest Colorado, US-40 to Dinosaur National Monument.
8: Lake Koocanusa Scenic Byway, Libby Montana
Lake Koocanusa Scenic Byway is one of Montana's best kept riding secrets. Peek-a-boo views from the forest to the lake below provide riding enjoyment for miles on end. Northwest Montana from MT-37 to FR-92.
9: US Highway 14 Alt ( Medicine Wheel Passage Scenic Byway), Sheridan Wyoming:
Beautiful views, flowing pavement and historical significance—this ride has it all. Be sure to stop at Medicine Wheel, an ancient Indian ritual site. Northern Wyoming. Burgess Junction to Bighorn Lake.
10: Willow City Loop, Willow City Texas:
Deep in the heart of Texas is a narrow slice of asphalt with views to Enchanted Rock State Park. Work up an appetite riding it and head back to the nearby town of Fredericksburg to fill up on food and live music. North out of Williow City.
Butler Motorcycle Maps produces waterproof, tear resistant road maps that help motorcycle riders find the best scenic motorcycle routes. Color coded information about drama, safety and the overall riding experience of a given road provides riders an alternative to using the shortest distance or fastest time calculated by most GPS devices. Butler Maps is based in Eagle, CO. For more information please visit http://www.butlermaps.com or call (970) 390-6621.