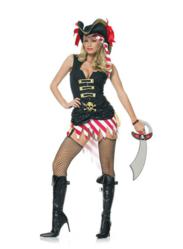 People no longer suffer shapless outfits at Halloween, choosing sexy instead.
(PRWEB UK) 9 October 2012
In the nineties when people were invited to a fancy dress party Woolworths would be the shop of choice. Failing this the town's local fancy dress shop would see partygoers choosing to hire spectacular outfits. However now fancy dress shops are finding it hard to stay in business and not just because of the recession, they have an unlikely adversary that proves to be tough competition.
No longer are women and men content with choosing an ill-fitting outfit that depicts their favourite character, now the demand is higher as they seek cleavage enhancing sexy costumes and pirate costumes akin to Captain Jack Sparrow. Instead of choosing their local shop for these they now look to lingerie online to fulfil their needs.
Almost every lingerie website now has a separate section for fancy dress, yet this weren't launched with the party in mind. The lingerie sites provided these items as private sales for couples to enjoy when taking part in role play. Yet as consumer confidence has soared these outfits are now regularly seen on the city streets as clubbers adore the sexy twist the lingerie shops give to age old well known characters.
As Halloween approaches it's never been more evident that these outfits are selling like hotcakes, as Le-Beau sexy lingerie lingerie say, "although our outfits are designed for fun between couples we are pleased that they're also being used for fancy dress parties. Why should someone have to compromise on sexiness because of the dress code? Now anyone can still be the belle of the ball whether they're a cat, an elf or a devil!"
It seems times are changing and since the closure of Woolworths lingerie stores have increased in popularity, not just for the standard knickers, bras and Hold Up Stockings but for the fancy dress options too!
Le-Beau.co.uk offer a wide range of exotic and sexy lingerie, fancy dress costumes, dresses, boots shoes and much more, supplying clients with an exceptional standard of sexy lingerie as well as other products. They also provide a high standard secure online shopping experience and are confident customers will be more than satisfied with all products and services. Understanding the power of word of mouth, le-beau make sure you tell your friends!
For more information visit http://www.le-beau.co.uk