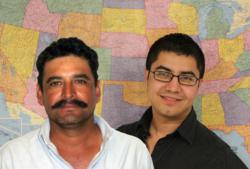 I am very proud of Eduardo and Emanuel. They are extremely hard workers and I am happy to recognize them for their contributions to our team.
Laredo, TX (PRWEB) October 02, 2012
Eduardo Cantu, Forklift Operator at Conexus' Laredo office has been promoted to Yard Lead and will manage a team of Forklift Operators while taking on additional leadership responsibilities regarding transloading and overall yard operations.
In addition to Cantu, Conexus' Laredo office has also promoted Emanuel Hernandez from Logistics Coordinator to International Account Manager. Hernandez will focus on finding solutions for Conexus' customers while helping them move freight throughout North America.
"I am very proud of Eduardo and Emanuel," said Patty Hinojosa, Director of Logistics for Conexus. "They are extremely hard workers and I am happy to recognize them for their contributions to our team. I know they will be successful and will make us a better company as a result."